8 Well-Designed Offices to Inspire Your Next Workspace Makeover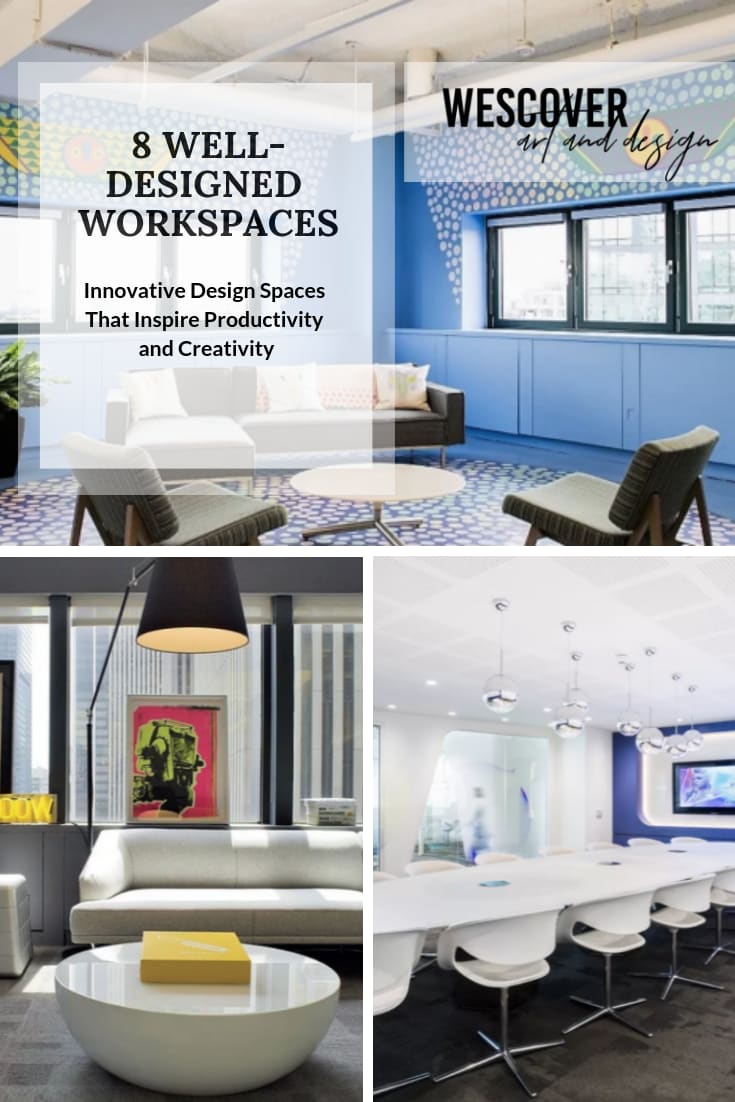 Good design creates inviting atmospheres that have a positive impact on our moods and experiences. This is why offices with a stimulating décor are so enticing. Offices with a honed aesthetic interior make our daily work commutes worth it. Here are 8 Wescover-worthy offices that have their employees raving. We are loving these inviting and stimulating office spaces:
Figma – San Francisco
Figma is a 5,000-square-foot headquarters at San Francisco, California. The first professional-grade online tool created specifically for interface design, Figma is a hub for programmers and designers alike. Geremia Design curated a compelling collection of contemporary art. Custom-designed planters provide considerable presence among the double height rafters in the light-filled common space and kitchen. Layered in tandem, prominent commissioned murals, which were drafted by noteworthy designers using the Figma cloud-based illustration tool, shape and activate the space. Light woods, grey and tan fabrics, and white accessories subtly complement Geremia-designed furniture.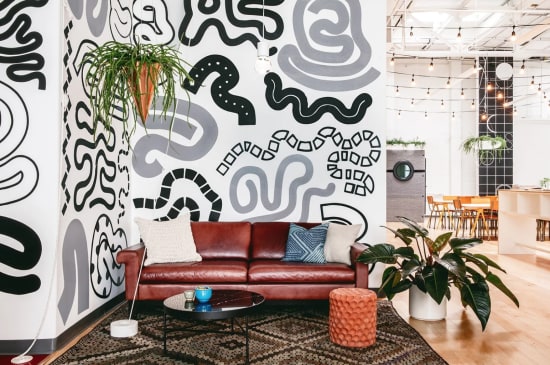 We can see why so many employees continue to help Facebook top the list of 'Best Places to Work.' Their Frank Gehry-designed office space at 770 Broadway has an actual Facebook "wall" for employees to post on, an open layout with quiet rooms tucked in various places, and an amazing cafeteria that includes everything from pizza and salad to office-made frozen yogurt and a pastry chef. The offices spread across four floors in what used to be the Wanamaker's flagship department store.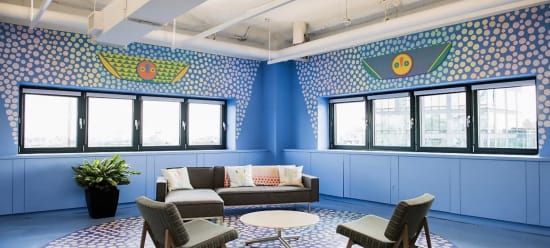 In 2003, visionary media entrepreneur Adam I. Sandow started SANDOW with the goal to launch a truly innovative company that would reinvent the traditional publishing model. Their innovative flair is reflected in their pop-art inspired offices in New York: they feature mixed-media murals by Speedy Graphito and wallpaper by Adrian Wilson, spray paint and graffiti letterform canvases, and a modern futuristic birch plywood gray group seating system created by Richard Shemtov. Their colorful office abounds with vibrant and lively artwork.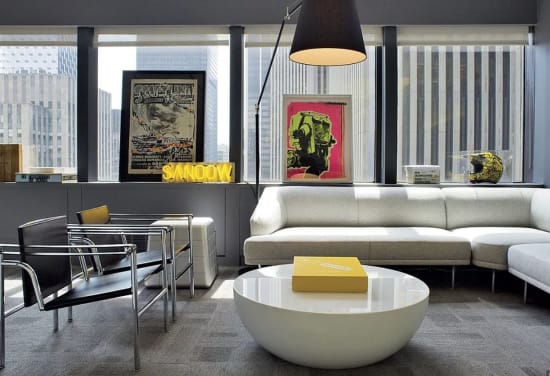 The Zev Yaroslavsky Family Support Center, Van Nuys, CA, is an award-winning facility that provides a more humane and collaborative environment for both staff and clients. It features a pedestrian-friendly, park-like campus setting where art, architecture, and landscape are cohesively integrated. Buildings are located on the perimeter, creating a safe interior courtyard with walking paths, gathering spaces, and a children's play area. Inside the building are coffee bars, huddle rooms, and lunch areas integrated with an open office layout. Each floor offers secure access to terraces outside. Art installations by local artists express a sense of community and humanity.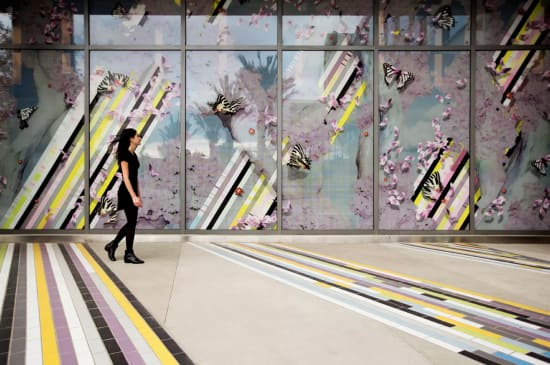 This world-renown lead glass company has an NYC office space as a sleek and modern as the jewelry it sells. Its mostly white interior has Italian avant-garde furniture by Massimo Iosa Ghini and a myriad of brass chandeliers by designers such as Tord Boontje and Georg Baldele that glisten and cast white reflections on the walls, uplifting the ambiance of any space. The glass panels and white backdrop create a gleaming modern office space that quite literally shines.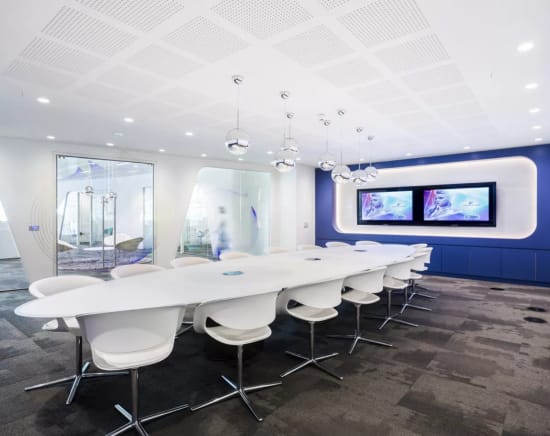 Sheargold Group is a real estate developer in Australia who worked with Growready by Ben Bonifant to transform their new office space into a green and organic space surrounded by reclaimed Australian hardwood and reclaimed wood. Their earthy modern decor is an assortment of neutral colors on a bed of green and sleek iron furniture.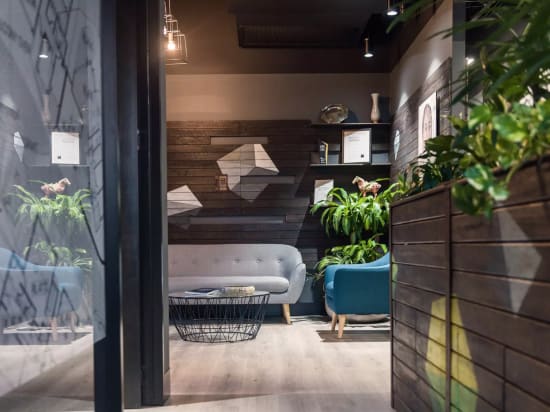 Lua + Sol has an 18.000 sq foot space that abounds in wood, earthy tones, and minimal decor. Junkfood Clothing's parent company approached VERDEGO to assist with their office move to a space in Culver City. The office is divided into private offices, client branded rooms, cubicles and communal gathering spaces all keeping in mind the desired aesthetic. The materials match the subtle color range of black, charcoal, taupe and white. The loft-like open space is liberating yet cozy, with a series of warm Wood furniture, Eric Trine Chairs, and Plywood and powder coated steel working tables. The plants scattered across offices and gathering spaces bring nature into an inviting and welcoming office environment.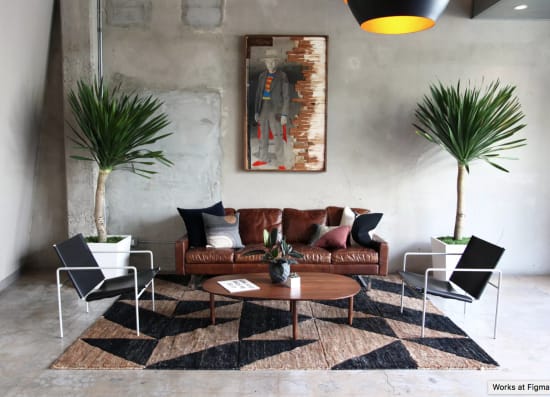 Etsy – Brooklyn
Etsy's Brooklyn office space is sure to entice any lover of cozy and natural design. An e-commerce website that focuses on handmade or vintage items, Etsy's design focus can be seen in its unique and local décor. With an entire botanical shelf among threaded hanging chairs and woven lighting, as well as expansive window spaces that let in a wide stream of light, Etsy is alive in all regards. Its wooden furniture compliments the abundance of green that gives it a soothing, natural, and cozy glow. It has an innovative and incandescent sculpture by Christina Watka that harnesses the energy in the building "youthful, optimistic, and creative." Everything from the solid walnut reception desk to the bronze glass coffee tables makes Etsy's office a natural and inviting work atmosphere.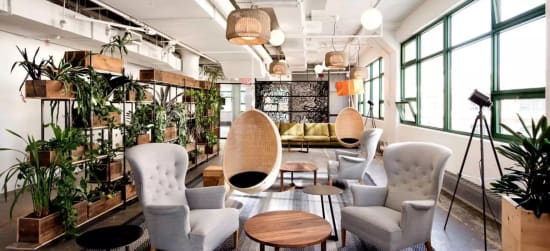 Each detail creates a full experience. A great interior adds dimension to your work experience, inspires conversation, and brings you back for more every single day. We hope you enjoy exploring these office designs and the individual creators who took a part in creating them.