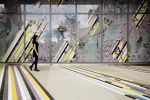 +2

Inverted Landscapes - Art & Wall Decor
Featured In Zev Yaroslavsky Family Support Center, Los Angeles, CA
Elena Manferdini brings two dynamic art installations to the lobby of the Zev Yaroslavsky Family Support Center in Van Nuys.
"Inverted Landscapes" is comprised of two multi-layered collages, each one detailing hyper-realistic depictions of nature, juxtaposed against colorful geometric forms.
The large-scale works by Elena Manferdini, combine geometrical gradients, perforations and inlays as a way to introduce depth, transparency and an immersive quality to a flat picture plane. The 12-foot-by-44-foot artwork inside the center uses protruding inserts, with cloud shapes and reflective disks that project a textured effect upon its surface.
The piece follows a similar theme to its exterior counterpart, which details photorealist orchids, leaves and butterflies, forming a harmonious collage across the space, with optical effects layered with material finishes.
Have more questions about this item?