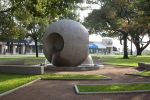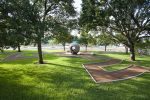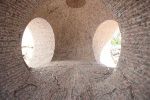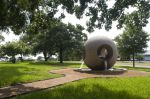 +3

Earth Fountain Park - Public Sculptures
Featured In Byers Green on Camp Bowie Boulevard, Fort Worth, TX
Earth Fountain, a nine-foot orb carved from granite by Austin-based artist Philippe Klinefelter, arrived in Fort Worth June 2 after making a four-hour journey up Interstate 35W. It was successfully installed while a small crowd looked on. The sculpture, a Fort Worth Public Art project, is located in a traffic triangle know as Byers Green on Camp Bowie Boulevard at Eldridge Street.
Carved out of a single, 30-ton block of Texas Sunset Red granite — the same granite used in the Tarrant County Courthouse — the sculpture echoes the color of the Thurber brick used to pave Camp Bowie Boulevard.
The sculpture's design was inspired by water – how it comes from, shapes, and returns to the earth. The three openings in the sculpture are related to the angles of the three streets adjacent to the park. Water will flow out of the three openings over a carved, scaled representation of the Trinity River and its tributaries.
After the installation of Earth Fountain, Philippe was asked to design the rest of park as well.
Have more questions about this item?