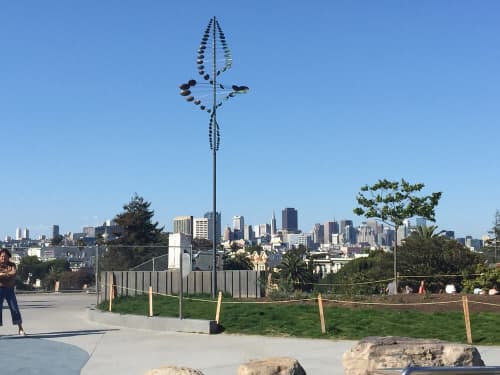 Oval Twister - Public Sculptures
Featured In Mission Dolores Park, San Francisco, CA
Oval Twister is a 23-foot tall sculpture that stands at Mission Dolores Park. This eye-catching kinetic structure is part of Lyman Whitaker's body of artwork that has the ability to interact with the natural elements and its surroundings. By placing sculpture in settings dependent on natural elements for movement, opportunities are provided for participants to think about their surroundings. Connecting the viewer with the movement of air an involvement with climate is implied.
As an artist, Lyman can express his concern for the survival of the planet through a creative medium. Disquieted about the durability of our culture's present systems, in relation to climate change, Lyman's strongest wish is to have his artwork symbolize a move toward better solutions in relationship to the earth. Lyman Whitaker has been a practicing sculptor for over 50 years, with a unique knowledge of materials and their application. The past 35 years have primarily been focused on creating Wind Sculptures, which are all produced by hand. The Wind Sculptures are innovative and artistic with a high degree of mechanical integrity; they are well respected for their quality craftsmanship.
Have more questions about this item?