Live-Edge Tables: Bringing Nature's Beauty Home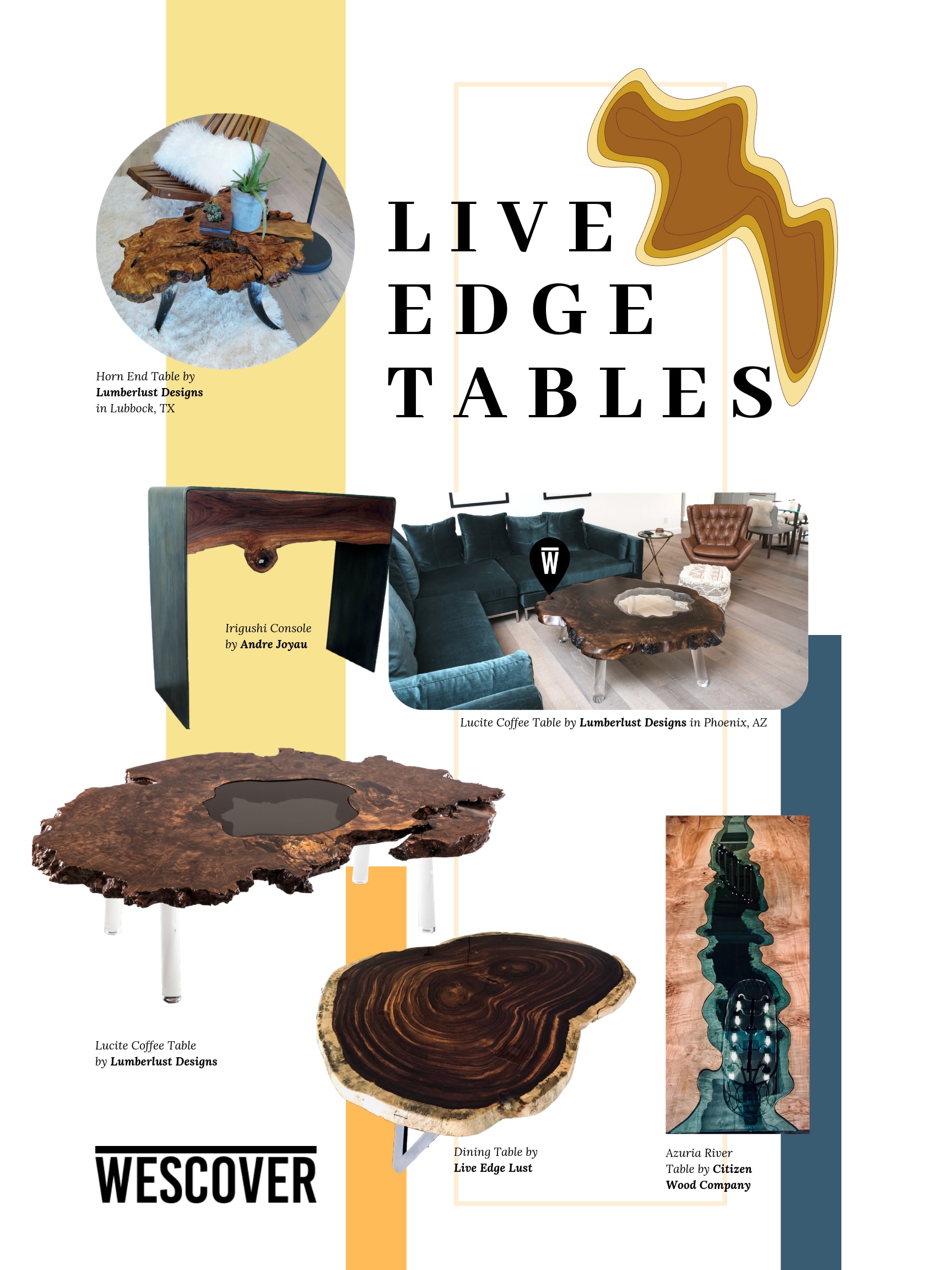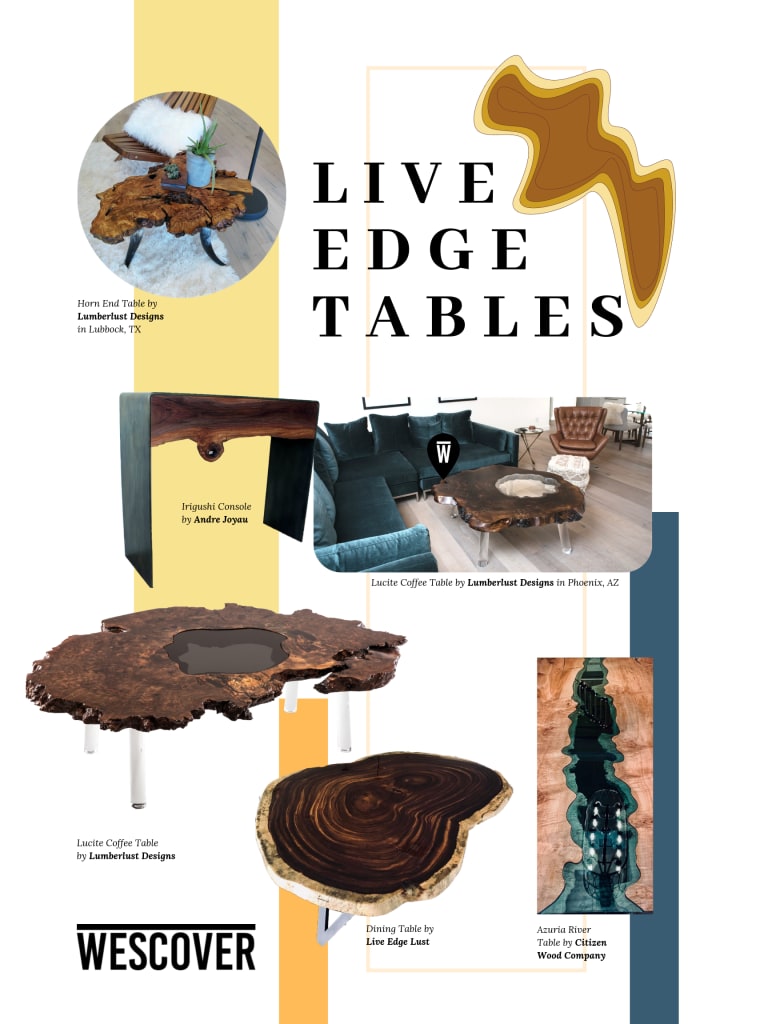 Modern spaces can be incredibly sleek, but sometimes that leaves us longing for something more spontaneous. We are so inspired by the new live-edged tables popping up on Wescover. Creators are going back to woodworking's roots, allowing the natural edges of the raw wood to determine the exact shape of the piece. The tables featured below bring modern rooms to life by incorporating a more organic approach to beauty. Live-edged tables let the grains of the wood determine the exact shape of the piece–meaning that each piece remains as unique as the tree it grew from.
We're also inspired by the sustainability of this woodworking approach; many of these pieces are made with reclaimed wood, with any resulting cracks filled with resin to ensure a smooth, glassy result that allows the wood's natural character to shine through. We love that every space with a reclaimed table like those below becomes a part of the wood's story, instead of just its final destination.
Here are some of the gorgeous live edge tables our Wescover artisan woodworkers have made: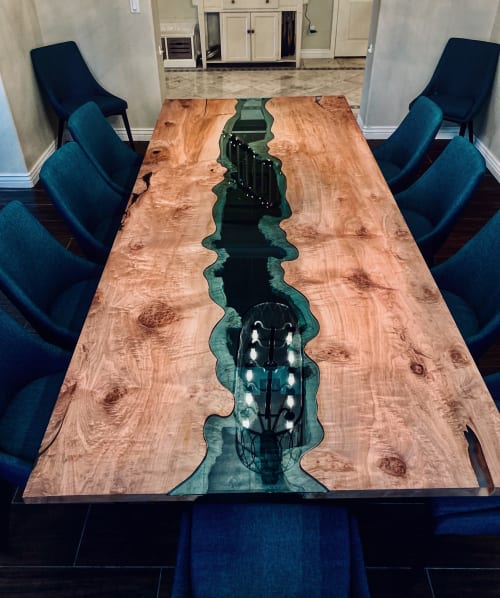 Citizen Wood Company developed this custom piece for a community space in Arizona, and we're so in love with the Azuria glass inlay we may go there to see it for ourselves! The natural flow of the inlay complements the grain of the big-leaf maple used for this piece,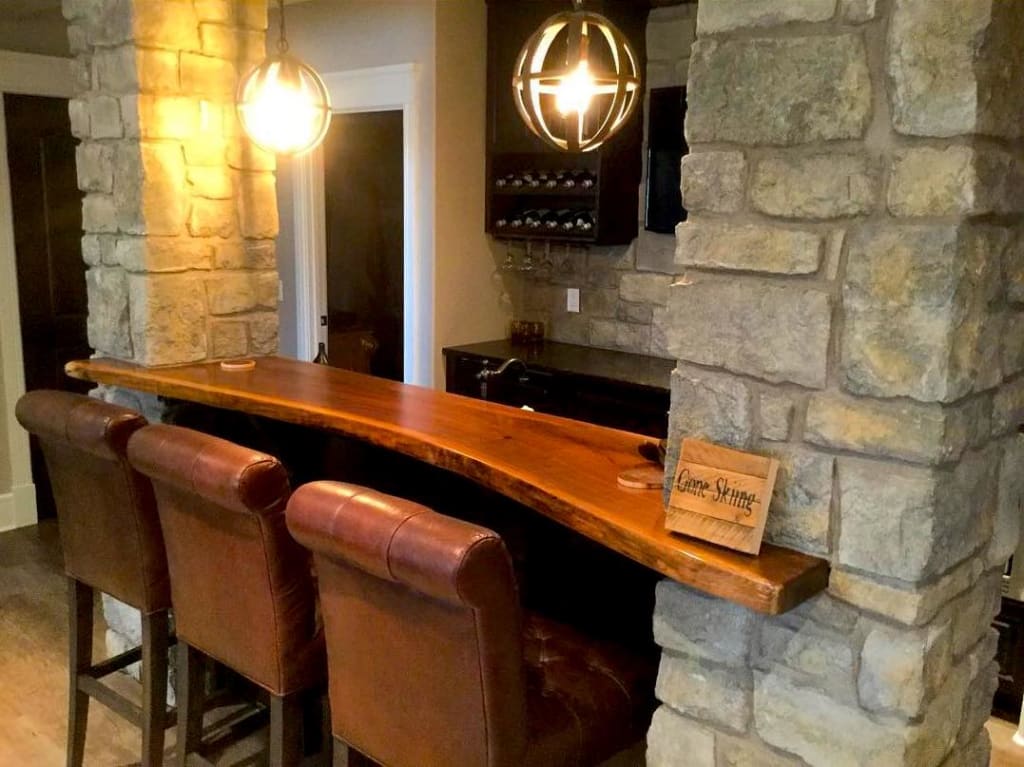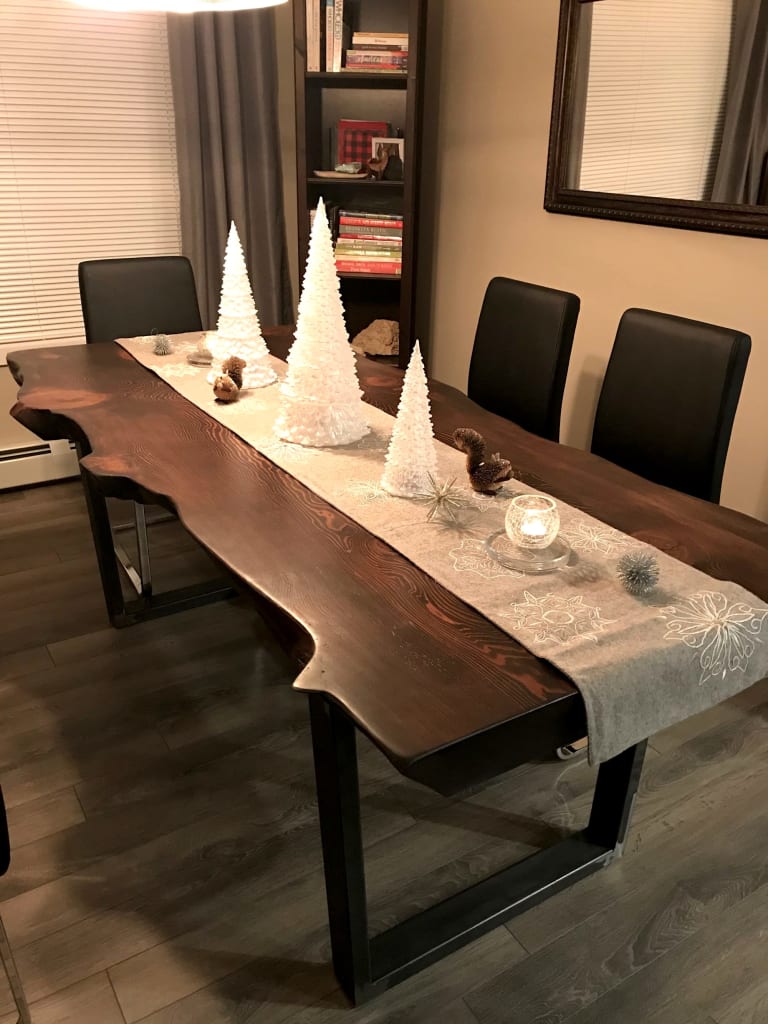 Here is a more stately example, made of Douglas fir with trapezoidal raw steel legs by Cask Woodworking for a home in Edmonton, Canada. The smoothed live edges of this piece show again the incredible variation among this trend!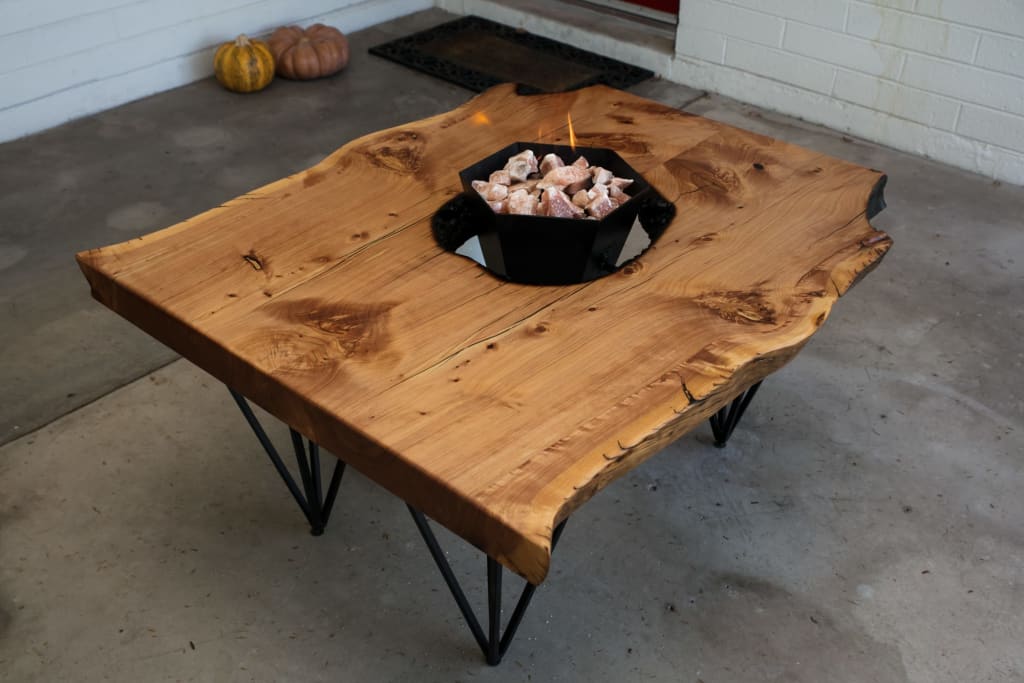 Lumberlust designs created this custom one of a kind fire pit patio/coffee table as an interactive piece. The pair of Juniper slabs came from a tree that died in The Dude fire in 1990 in Arizona; this tree was on the fire line which resulted in this "scorched" notch out of the side. It gives this home a thoughtful record of its local history.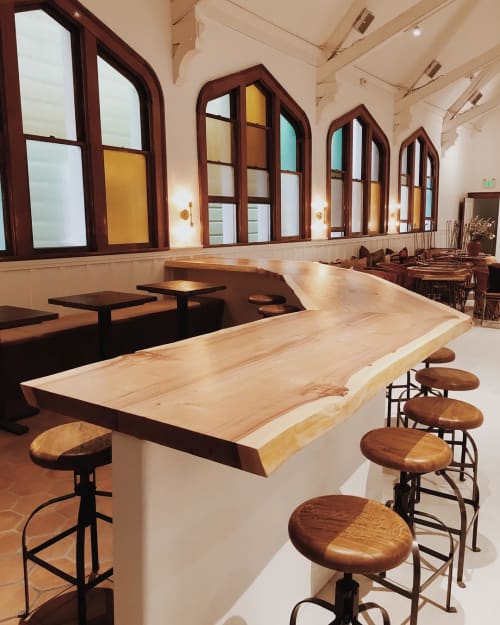 This redwood slab live-edged bar is a perfect fit for this rustic wellness space in San Francisco, curving around to unify different parts of the room. The community feeling is evident even in pictures, and we love that a simple piece can do so much to bring people together.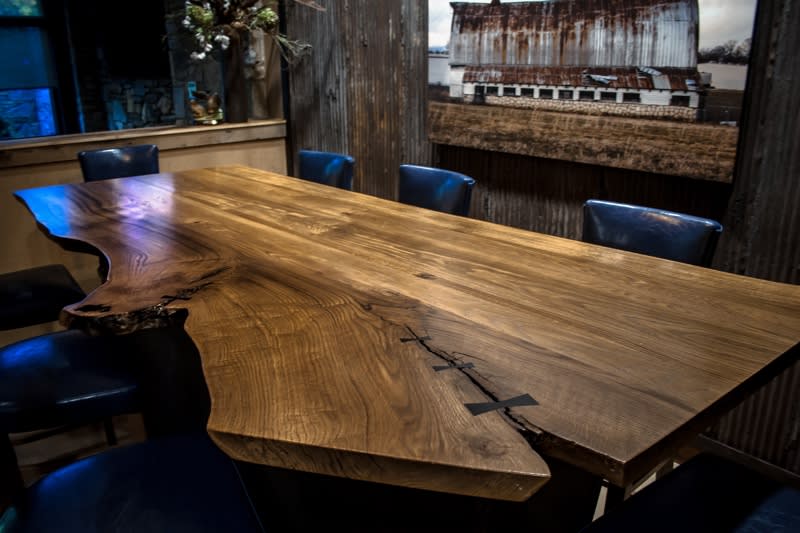 The high polish on this custom walnut conference table counters its natural edge, and gives this space an extra-cozy feeling. This table was designed and completed by the Old Wood Company for a hotel in Asheville, North Carolina.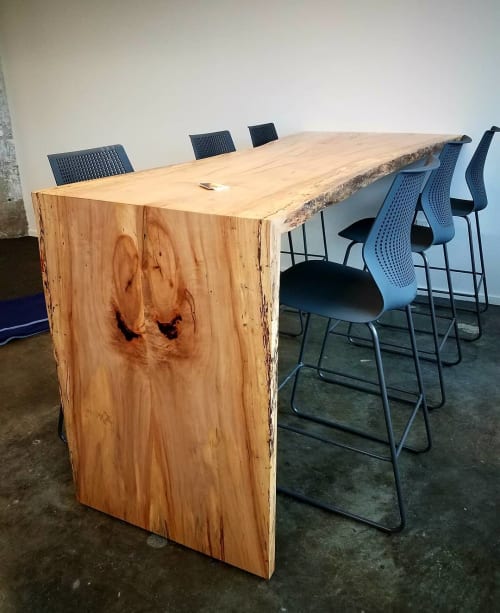 Roxie Woodworks called this floating maple table a "spalted" because of the beautiful striping within the grain; caused by fungi that's inhabited the tree, it's a highly sought-after natural effect among woodworkers! Mounted to the wall for an especially contemporary feel, the piece resides in Memphis, Tennessee.
Our final piece in this trend is an extra-special original piece from a species of "rain tree," also known as monkeypod, in Costa Rica. The oaken finish on the edges is a native part of the wood, and shows the natural seam where the inner part of the tree began to meet its outer bark. This conference table (and its beautiful natural swirls!) currently reside in Phoenix, Arizona.
Thanks so much for following us on this live-edged journey; these eight examples are just the very tip of what we are finding on Wescover these days–we can't wait to see what else our Creators get up to this year!