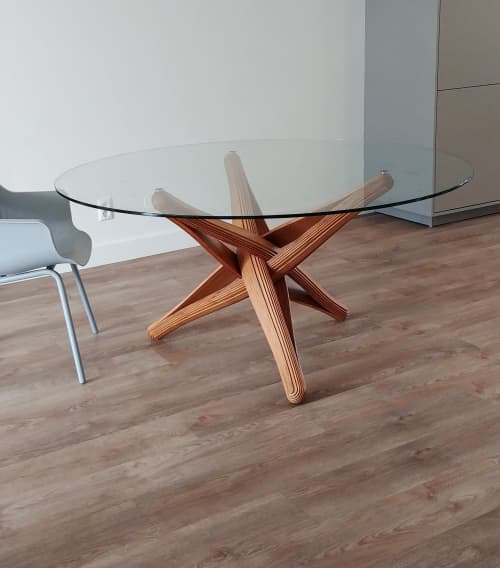 +9
"lock" caramel bamboo dining table
Inquire about Comissioning a Custom piece
"LOCK" dining table is designed out of the qualities, possibilities and characteristics of its material: bamboo.  The frame is build up from pressed layers of flexible bamboo. The shape is formed by the bamboo's natural bending curve. The layers of bamboo curve through each other and entwine, locking each other in place. Two different color-tones are used: natural and caramel bamboo.
This "layer cake"enhances the curves ,flow and shape of the table.
End result is a mix of nature and mathematics, of possible and impossible. A strong dynamic shape that looks different watched from different viewing points. A contemporary coffee table design and a mid-century homage.
Bamboo:
A strong, highly sustainable ,flexible, beautiful and renewable material. Bamboo grows without the help of fertilizers. The bamboo tree is mature enough to be cut after three years. The trees are processed into the most environmentally sustainable wood on Earth
Seats 7-8 persons
Please note: Price and shipping price is for the base only. Glass top is not included.
For overseas orders : the shipping costs for a glass top will exceed the price of the top itself.
It is much cheaper to have the top made at your local glass-dealer.
Hardware for mounting the glass top is included.
Ships from the Netherlands. (Europe shipping-prices for complete tables on request)
material: base: Bamboo.
dimensions base: length: 90 cm. /35,4 inch.
width : 80 cm./ 31,5inch.
Height: 74 cm. / 29,13 inch.
color: caramel bamboo. (naturel or natural/caramel combination on request)
Hard-oil finish.
weight base: 24 kg / 56 lbs
tarrif / HS code: 9403 8100 90
SKU: lock-dining
retail price: 1769,- Euro = 2149,- USD exc. VAT/ BTW
Shipping prices: (base only)
USA / WORLD : Euro = 950 USD
Have more questions about this item?