Image credit: Ali Vagnini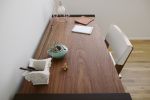 +1

Custom Options Available.
Ask The Creator
For Customization.
As the nature of work continues to change, so should the furniture we use for work. The Pocket desk strips these requirements to the core: a pocket in front to stash papers and pens (available with an optional drawer), and a pocket in back to store cords, wireless routers, power strips, chargers, and other infrastructure. Available in a taller height for use as a standing desk (perfect when paired with a stool).
A solid ash frame using our digital joinery system captures a maple or walnut Europly box. The front compartment holds pens, papers, and a laptop, and the rear compartment carries power strips, chargers, routers, and so on.
Dimensions
Overall: 50.5" W x 24.5" D x 30.5" or 42.5" H . Work Surface: 47" W x 23.5" D x 30" or 42" H Front Pocket: 45.5" W x 16.75" D x 4.125" H Rear Pocket: 45.5" W x 6" D x 4.125" H
Material
Solid blackened ash frame; maple or walnut veneer over FSC certified multi-core plywood center. Zero VOC clear finishes on the wood. 100% paper based packaging.
Origin
Made in Denver, Colorado, USA
Lead Time
Usually ships in 10-15 days.
$150 Shipping in the US, ask the creator about international shipping.
Have more questions about this item?