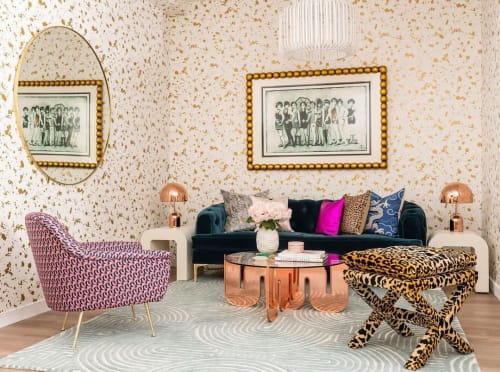 Image credit: Jessica Delaney Photography

Custom Options Available.
Ask The Creator
For Customization.
Free shipping in the US, ask the creator about international shipping.
The Wave Table is our most intriguing example of functional art. It features a high-energy, wave shaped base made of sheet metal, and comes with an array of table top options. Our beloved Terrazzo tops will elevate any space. Or try a smoked glass finish for a sleek, modern aesthetic. The Wave Table is guaranteed to be the head turner in any room.
PRODUCT DESCRIPTION
A stunning piece of functional art, The Wave Table is a coffee table that makes a statement. Crated from sheet metal and wire, this easy to install flat pack coffee table features a variety of table top options and finishes. Shining metallic coating creates gorgeous reflections or the Terrazzo finish adds a textural contrast to the smooth metal base.
Wave Table Specs
• 15"H x 36.75"D
• Product Weight: 44 lbs.
• Box Dimensions: 37.5" x 16" x 2.75"
• Box Weight: 46 lbs.
• Terrazzo Top Weight: 86 lbs
Color copper as pictured.
Have more questions about this item?