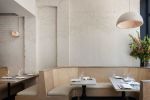 +5

MushLume Hemi Pendant (large)
Featured In LaLou, Brooklyn, NY
Other People Want This. 7 People Have This In Their Carts Right Now.
MushLume Hemi Pendant is all about pushing interior lighting to the limits with a 23″ diameter dome structure made from organic, sustainable and biodegradable mushroom material. It's a sizable representation of the adaptability of this dynamic material and an introduction into exploring new lighting materials.
The MushLume lighting collection is GROWN, not manufactured, from mushrooms! Combining mushroom mycelium with agricultural byproducts to create an organic, sustainable and biodegradable lamp shade. Each lamp is grown over the course of 4-10 days and is carefully handcrafted throughout the process of molding, growing and drying. The mushroom material is left natural/untreated and may overtime age showing more golden tones or can be hand painted white with a non-toxic, all natural milk paint. The MushLume lighting collection is an initiative to start thinking differently about what products are made from and begin to reimagine a more sustainable future.
For indoor use only.
23"L x 23"W x 12"H
Shipping: UPS 2-5 days
$85 Shipping in the US, ask the creator about international shipping.
Estimated Arrival: December 2, 2021
Have more questions about this item?