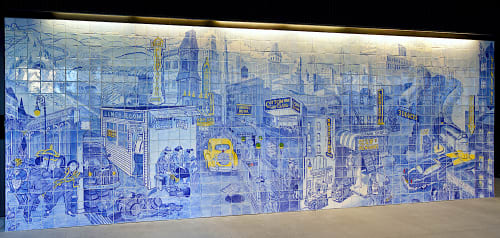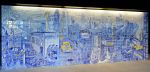 +1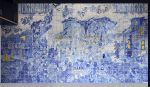 Jazz and the Nation, Jazz and the City, Jazz and the Afterlife
SFJAZZ Center's lobby features (2013), three commissioned tiled murals, created by Sandow Birk and Elyse Pignolet, an L.A.-based artist team. Birk's past work has embraced social themes across a wide spectrum: inner-city violence; graffiti; prisons; skateboarding; a consideration of the Qur'an as relevant to contemporary life in America.
Birk collaborated on the project with Elyse Pignolet, an American of Filipino descent who grew up in Oakland and works primarily in ceramics, often addressing the "permanence and traditions of ceramics with the fleeting and transitory nature of the contemporary world.
The murals were fabricated in Elyse's studio in San Pedro, California. "Since the history and scope of jazz is enormous and couldn't be contained in one mural, we have tried to depict places where jazz happened, to be located in the Center where jazz will be happening now, according to Birk.
The two murals in the Center's second-floor lobby, "Jazz and the Nation" and "Jazz and the City", combine to form one long skyline featuring famous jazz venues, clubs, theaters, ballrooms, and scenes from the history of jazz in the U.S. and in San Francisco.
The third mural, "Jazz and the Afterlife," fills the entire wall of the Green Room, where musicians gather before going onstage. It is a riff on the traditional "judgement day" frescoes, in which patrons are admitted to the afterlife past a stern bouncer to discover their fate off the clipboard of policemen, who direct them up to a boring heaven or down to the raging club of hell.
The artists are represented by the Catharine Clark Gallery, San Francisco.
Have more questions about this item?