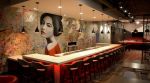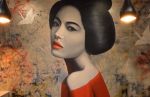 +6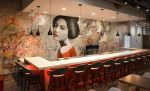 "Grit & Grace" - Murals
Featured In YUME SUSHI, Arlington, VA
Inquire about Comissioning a Custom piece
Title" "Grit & Grace"
Size: 14'h x 33"w
Owner: Jeff King
Chef: Saran Kannasute
https://yumesushiva.com/
Hand painted graffiti geisha mural and calling cards created for Yume Sushi.
"The eyes have it at Yume Sushi in Arlington near East Falls Church. Rocking the wall behind the counter of the youthful Japanese restaurant is a mural that's equal parts graffiti and elegance — streaks and smudges of red, blue and yellow paint sharing space with a larger-than-life geisha and a flock of origami cranes." - Tom Sietsema of the Washington Post
Have more questions about this item?