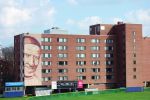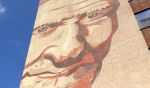 +3

Featured In DePaul University - McCabe Hall, Chicago, IL
"We Are DePaul 2" (mineral silicate paint on brick; 2001) is a mural executed by Brother Mark Elder CM with assistance from his students at DePaul University.
This corner mural on DePaul's McCabe Hall features a portrait of St. Vincent comprised of miniature faces of members of the DePaul University community. The faces of sixteen individuals make up the repeating pattern that becomes the portrait of St. Vincent. These individuals represent students, faculty and staff, and include a custodian, a former dean and a Vincentian priest.
These faces are repeated and layered to produce the tones that become the greater image. The mural is the largest likeness of St. Vincent in the world, and celebrates the great diversity of the DePaul community.
Have more questions about this item?