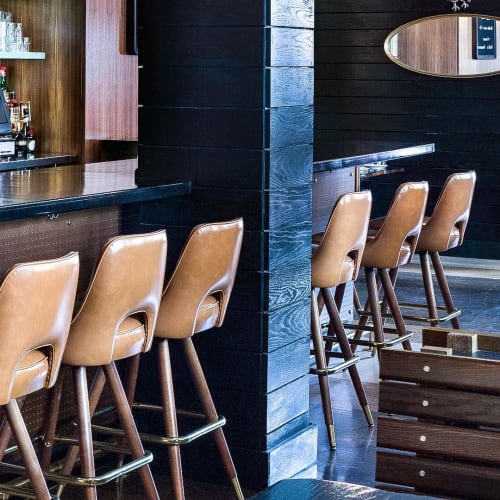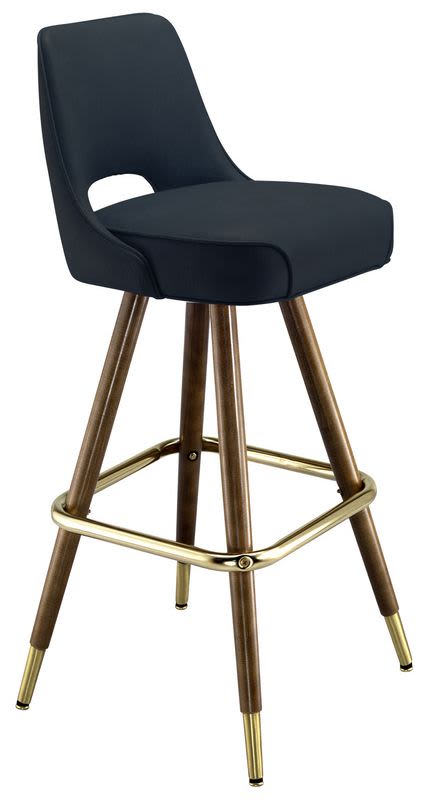 Starts at $200
We offer both wood and metal frames with this style seat. Price varies based on quantity and finishes.
Custom options available, ask the creator for customization.
Item Details
7002 bar stool with handspun maple legs, brass ferrules, and a brass footrest.
All units come standard with a heavy duty American made 90 degree return swivel.
We offer both brass and chrome hardware. Our standard rocker glides are metal bottom but we have the option to upgrade the glides to nylon bottom. The remaining model numbers refer to bar stools with wood legs. The wood used for the legs is hand spun maple and a special 8 ply plywood that is custom made for us. The legs use a pretty dark stain. These bar stool models have a smooth back and a smooth front with a cutout. The cutout makes it surprising easy to clean the bar stools and you will find yourself using the cutout to pull them away from the bar . We can do the trim in brass or chrome to match your hardware. We can upholster in any color that we carry and we can upholster in COM. Ships fully assembled.
Made in the USA
Product Specifications:
Seat Height: 30"
Product Dims: 19.25" x 21" x 40"
Weight: 26 lbs
Seat Dims: 19" x 17"
Carton Code: 2510
Packed Weight: 30 lbs