Wescover Lounge Debuts At ICFF 2022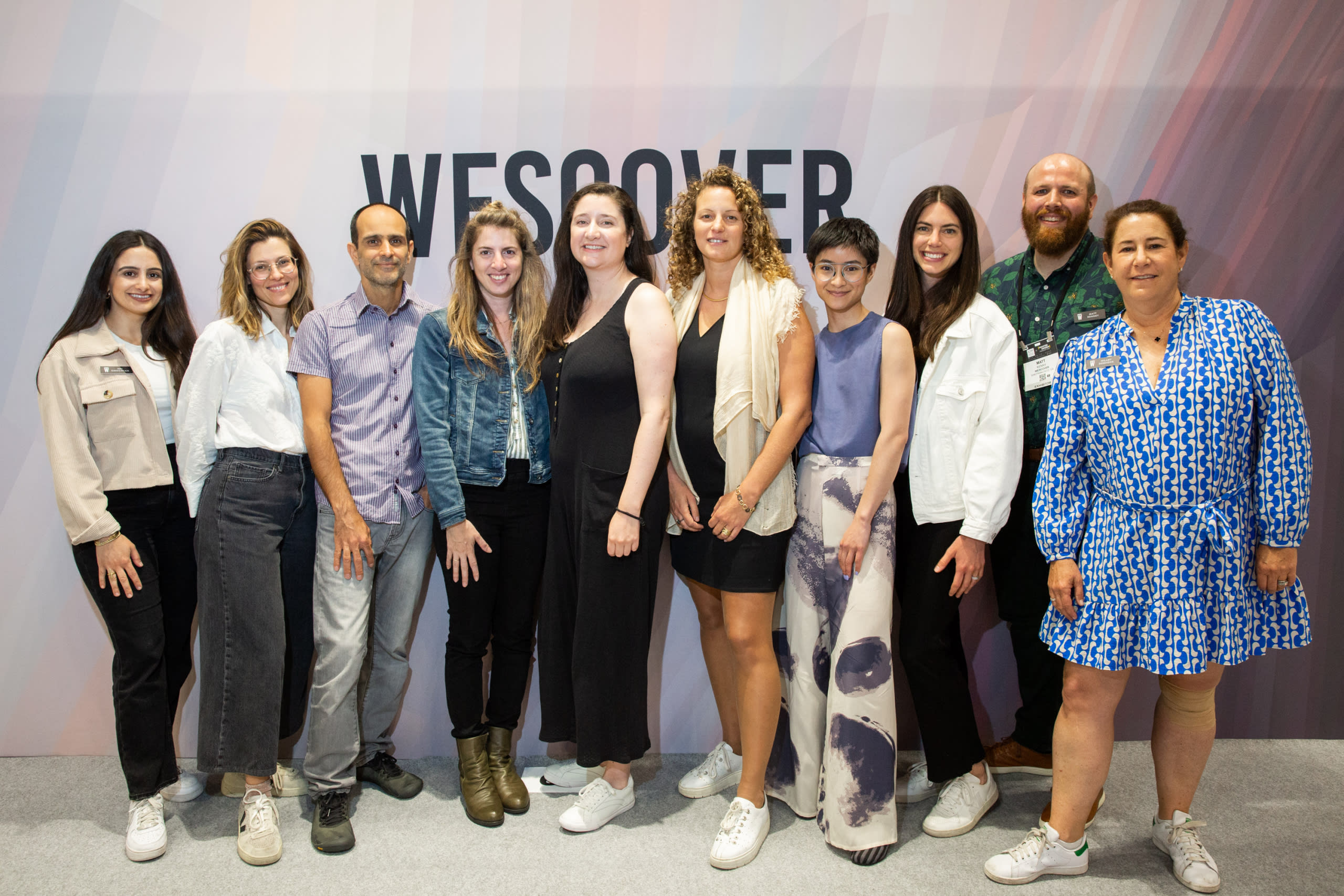 In May, ICFF (International Contemporary Furniture Fair) returned to NY. ICFF is North America's leading global platform for contemporary furnishing design. With its emphasis on original and sustainable design, the ICFF connects more than ICFF and the co-located WantedDesign Manhattan bring together over 350 established and emerging design brands of furniture, lighting, textiles, seating, carpet and flooring, wall coverings, outdoor furniture, materials, kitchen and bath and accessories from around the world. 
For the event, Wescover collaborated with Creators Fyrn, SEED Design, HACHI Collection, Model No  and Jill Malek to create a  serene environment where attendees would relax and take a break from the hectic showfloor.   The space also served  as a hub for networking, learning and inspiration throughout the show. Daily presentations featured Wescover Creators, partners, designers and industry influencers.
Not only did we get the chance to show off our creators, but we had the privilege of hosting talks on Maintaining Your Authentic Voice, Planet-First Design, and How Norwegian Brands are Navigating Sustainability and Design. All of these talks were inspiring, and rejuvenated everyone who was in attendance.
Our featured Creator Sponsors for this event were Fyrn, SEED Design, HACHI Collections, Model No, and Jill Malek. Our creators, partners, and designers are truly the backbone of Wescover, and greatly influence the community that we've fostered and built since our founding. The Wescover Lounge made its mark on ICFF.
We would love to share some of the featured pieces!
This Woven Basket Tapestry is a unique, authentic piece by Moses Nadel. The wooden links held together with a wooden peg rail can bring the warmth of lumber and the luxury of Moses Nadel's work to any space. When studying this piece, the notable handcrafted nature stands out while remaining beautifully intricate. 
Moses Nadel is stationed in Sea Cliff, NY and has been a Wescover Creator since 2018. Their contemporary, clean-cut designs allude to the complexity of the designer's vision, while managing to look elegant and effortless.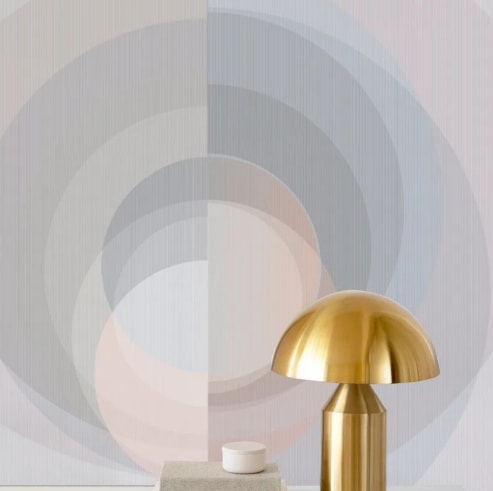 This Orb Sunrise Wallpaper by Jill Malek is from her new Mystique collection which made its debut recently on Wescover. To adorn your walls with art, and not sacrifice space to do it, this pattern represents the flowing energy of the moon.  Jill shared her newest patterns with Wescover, which we used as the design inspriation for our Lounge.   Jill Malek is known for her contributions to sustainable, stunning design. She has been a Wescover Creator since 2018, and inspires every fellow creator she comes into contact with.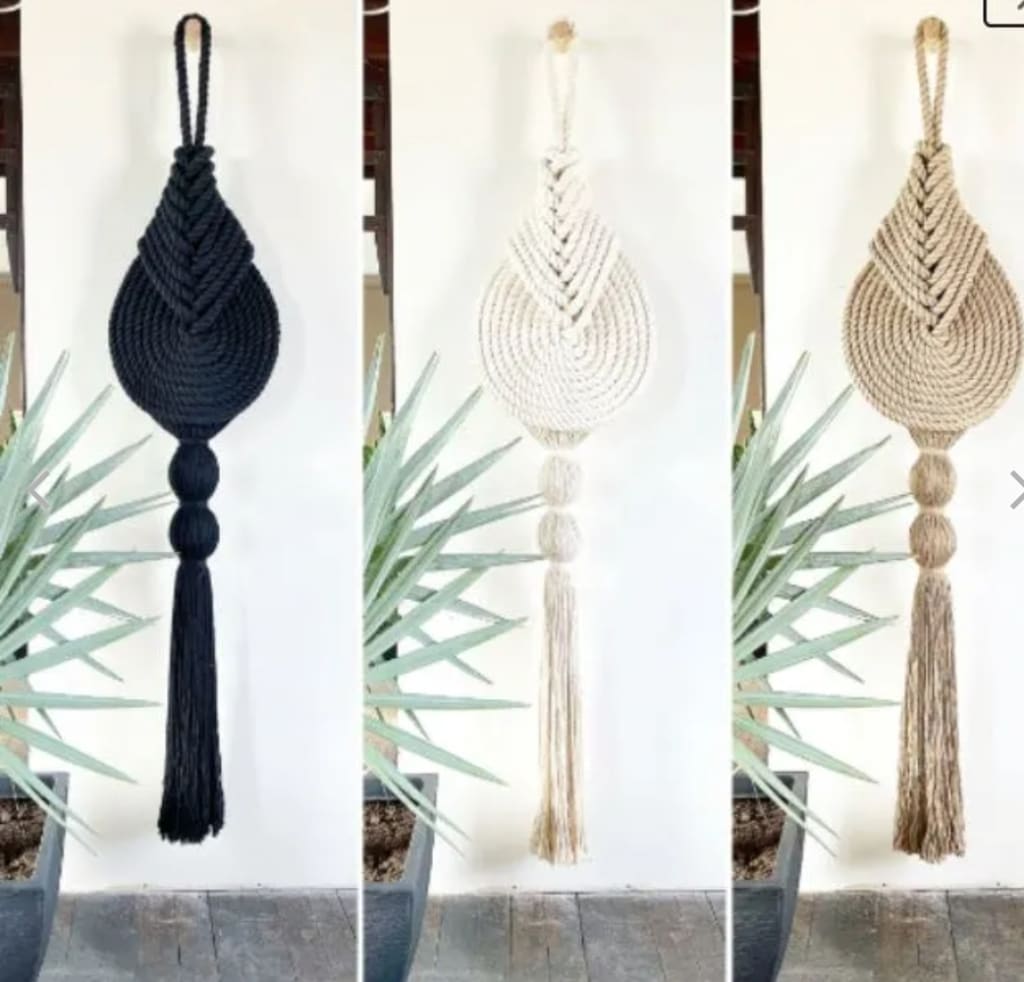 This XL Lyric Macrame Wall Hanging gets its intricacy from its designer, Candice Luter who has been a Wescover Creator since 2021. Candice owns Candice Luter Art & Interiors located in Iowa. She expertly  crafts pieces with wood and fiber, and this piece perfectly shows off her weaving ability. Each piece is made to order, and exudes the energy of being just the right piece for any high-ceilinged room.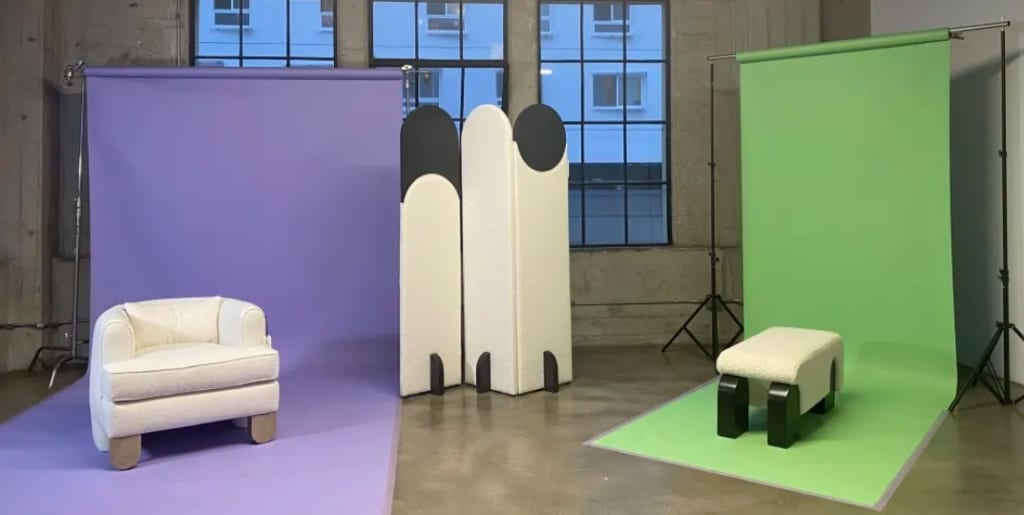 The Uno Dos Tres Screen brought to you by CASAminimo is a perfectly-balanced, minimalist trio of stand-alone panels. They can be displayed together, or apart, allowing for endless possibilities. This set is expertly-crafted to emulate the female and male silhouettes, while maintaining subtlety and class. Using oak wood and upholstery, this trio is unique in all the beautiful, creative ways that we love. 
CASAminimo, who has been a Wescover Creator since 2021, works to liven up the minimalistic approach. Based in Los Angeles, they handcraft all of their products with sustainability at the forefront. Truly innovative and modifiable furniture pieces come from CASAminimo, and their influence on the minimalist design community is one to be proud of.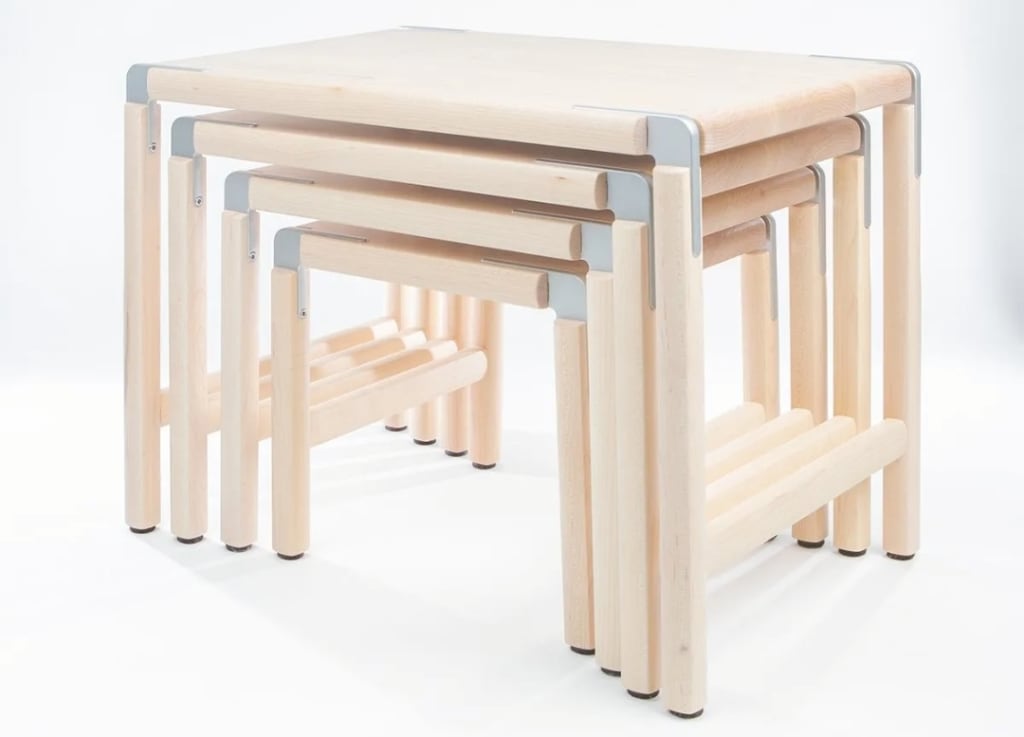 With minimalist vibes in mind, this Nesting Table Set brings together elements of saving space while staying on top of modern trends. Functionality and sustainability are core values for Fyrn, who has been a Wescover Creator since 2017. Based in San Francisco, all of their pieces are handcrafted and built to last from generation to generation. Fyrn is all about adaptability, and these Nesting Tables put their best foot forward.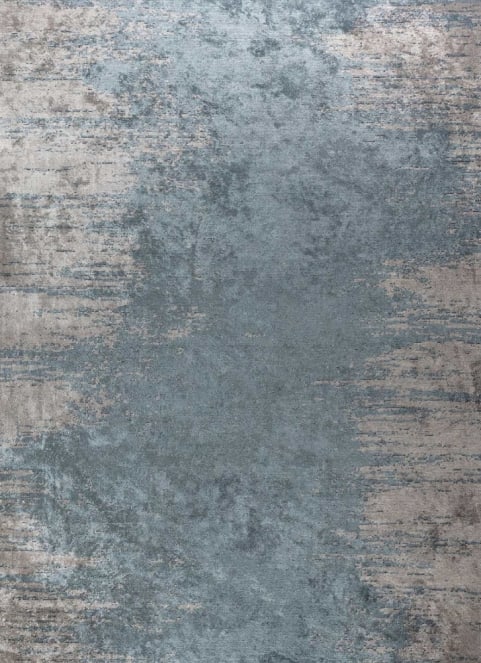 Woven Concepts has been a Wescover Creator since 2018. Their vision is to elevate the  luxury of artisan rugs. Their bespoke rugs, like this Rapture Kindred Rug, is a part of their Rapture Collection The softest step is a given for a rug of such high quality, and the design brings together hues and movements of the ocean and sky.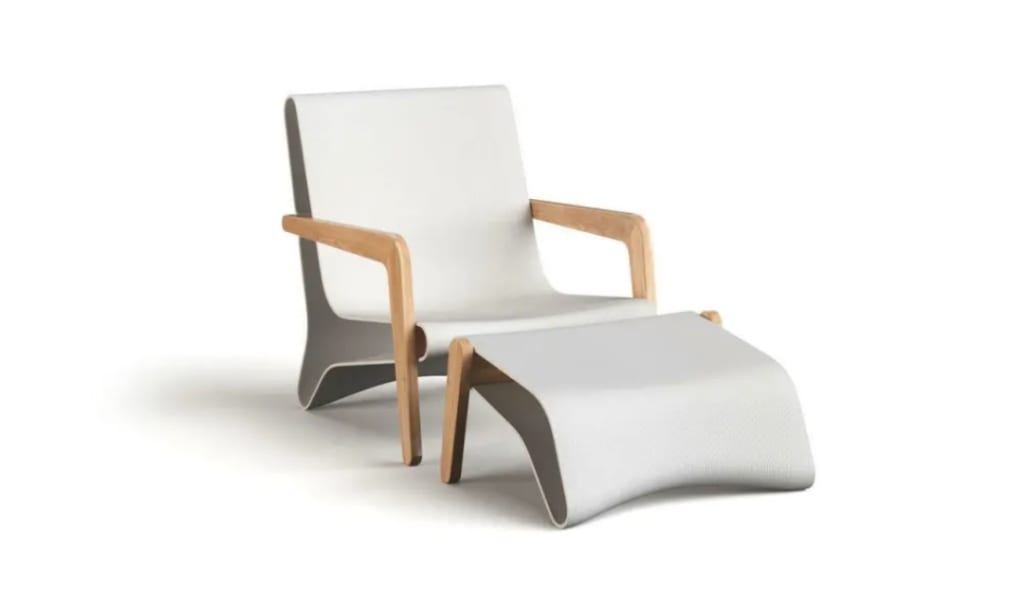 The Solis Adirondack Chair and Ottoman are both modern and innovative. Model No uses state-of-the-art 3D printing to produce each piece of their collection. The ergonomic design provides excellent support, allowing one to lounge in comfort and style. This piece is made from plant-based polymers and sustainable hardwood. Model No has been a Wescover Creator since 2019, and is based in Oakland, CA. Sustainability was a prevalent theme at ICFF 2022. Model No brought their story and innovative products to illustrate how form and function come together with winning design.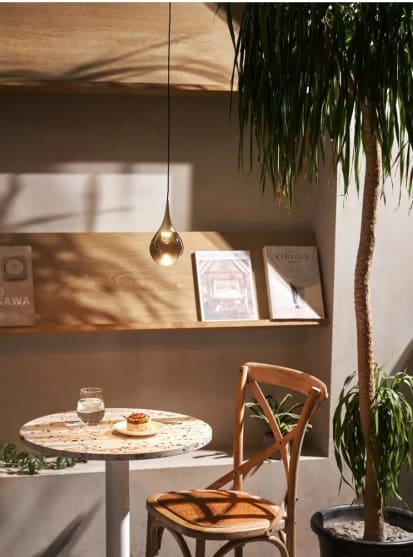 Few pieces radiate as much  as this PAOPAO Pendant P1 by SEED Design. Known for their contemporary and modern lighting, SEED Design has been a Wescover Creator since 2020. Working out of Renton, WA, their light sculptures, pendants, and lamps all exude modernity.
Designed in Taiwan, their work is inspired by the art of fine jewelry, and that is evident in this piece. The unique details are created by mouth-blowing the glass, an art in and of itself. The quality, craftsmanship and innovative LED technology make their pieces a wonderful, modern lighting addition to any space.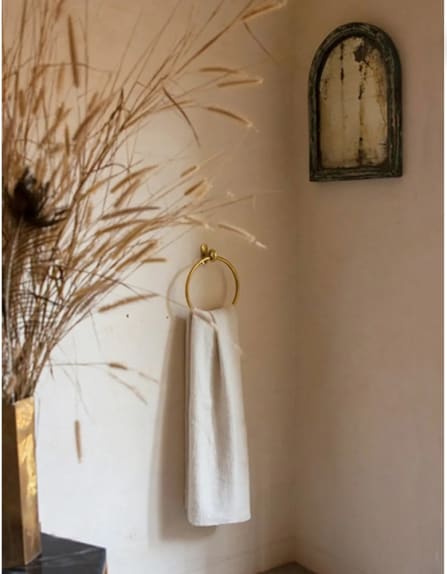 This Solid Brass Towel Ring and hardware collection by Mi + Gei will fit in any space perfectly, aligning with any decor from modern to vintage. Their unique pieces are carefully designed and  hand-sculpted. Mi&Gei Hardware Design Studio has been a Wescover Creator since 2020 and has very French roots, though the company is based out of Mumbai, India. They design, create, and innovate useful art, which we think speaks largely to this year's ICFF themes.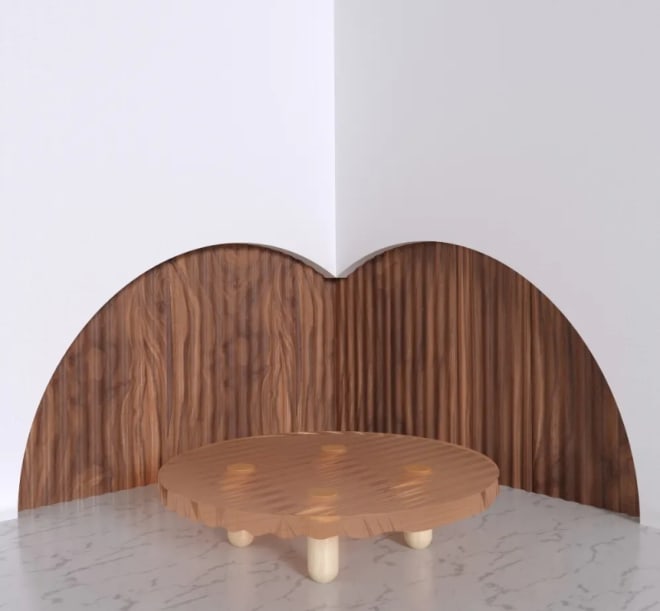 Last but certainly not least is the NAMI Coffee Table by HACHI Collections. HACHI Collections has been a Wescover Creator since 2019 and uses their influence to enrich people's lives. Rooted in Brooklyn, NY, they strive to innovate and further the world of design. This piece is a part of their NAMI Collection, which showcases the uniqueness of wood grains, coupled with luminous orange resin – a great expression of clean design.
This piece, the NAMI Coffee Table, won "The Best of ICFF 2022" award!
We are honored to be a part of this beautiful experience. The events of ICFF can't quite be summed up by words, but a few come to mind. The once-in-a-lifetime opportunity to take the proverbial stage and speak Wescover's story has been a wonderful experience. To see more works featured at this event, be sure to check out All Featured ICFF Designs.
Next stop – NeoCon… Come visit the Wescover Lounge at NeoCon at The Mart in Chicago from June 13-15, 2022 Booths:  #7-1010  + #7-1014 on the 7th floor.
Can't get enough? Visit us on Instagram to see ICFF 2022 highlights and more!