2 Artists Explain the Human Impact of Shopping Local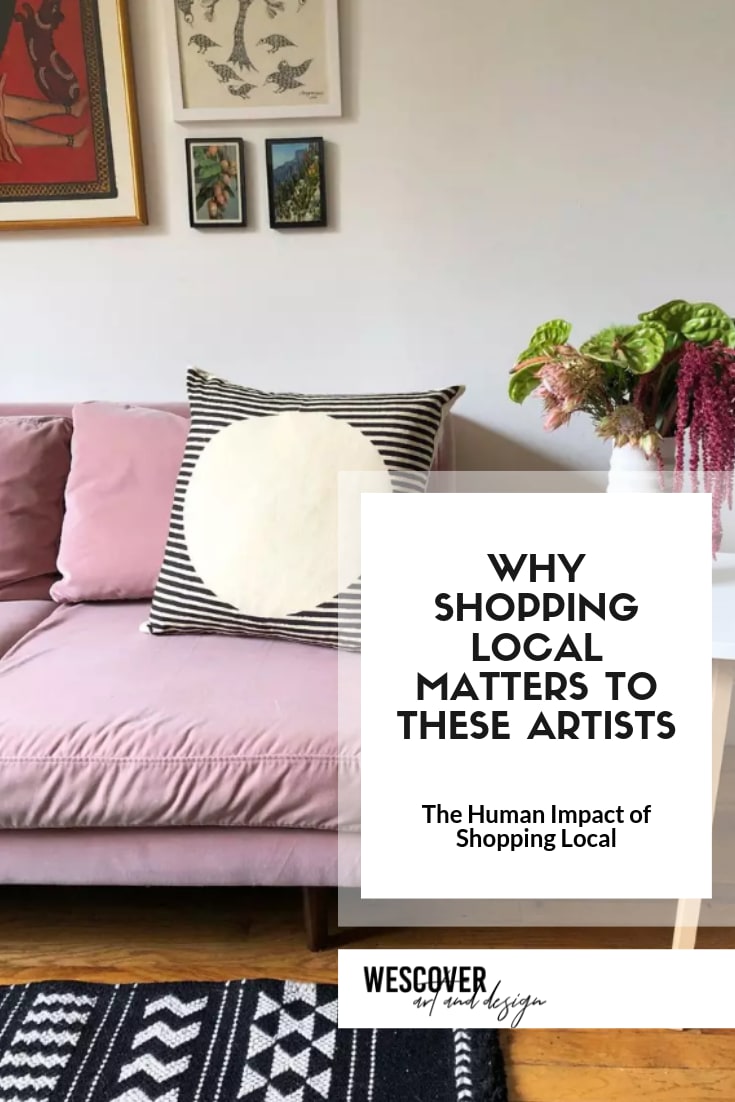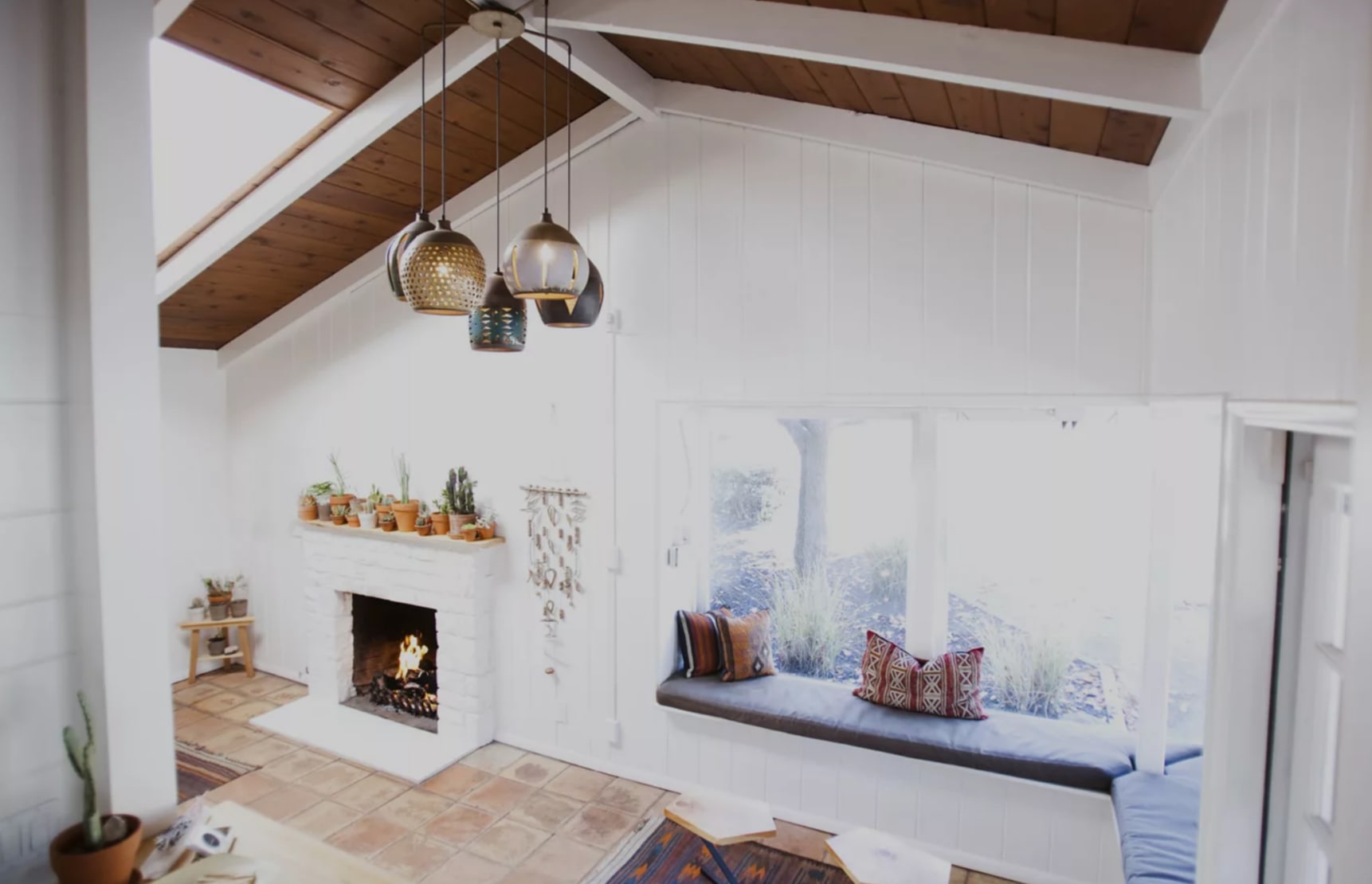 Ceramic Pendant Chandelier by Heather Levine as seen in Ojai Rancho Inn on Wescover.
Buying art and decor from local artists makes a unique and expansive impact on the community. On Wescover, we're seeing this trend to buy local: whether it's an interior designer commissioning huge works for a hotel or someone shopping for one item for their home, people are realizing that there's a world of creators out there to discover. For spaces, we're seeing them attract more customers by investing in unique, local design trends their citizens love. For an artist, this trend is rewarding and provides a connection to the community around them.
When you buy locally, every object is has a story to tell, and the impact of your purchase extends beyond the artist. Not only are you adding depth to any interior space, but you're also contributing to your local economy and the environment around you. A university story on the multiplier effect Chicago study found that for every $100 spent at a locally owned business, $68 stay in the local community as opposed to $43 when you buy from a national chain. Beyond the pure economics, shopping locally also has a profound impact on the artist and the community.
The local landscape and the experiences these objects create for so many individuals are one of a kind. In the end, you get to know the people behind the product and they get to know you. We spoke to 2 artists about the stories behind their unique artwork and what buying locally means to them.
Sunday / Monday
Sunday/Monday's work is a homage to traditional Indian design. This husband and wife duo, based in New York, produces handmade textiles whose intricate patterns instill a calm peace into many private residences around the US. Nisha Mirani and Brendan Kramer's art represents their personal connection to the rich textile heritage of India and the talented artists that keep the traditional craft alive.
"We use traditional Indian motifs as a starting point in our design process and play with the scale, color, or application to make our designs into beautiful heirloom textiles."
Their designs are definitely inspiring, a cultural emblem providing an artistic and soothing design. For these two, a great benefit to selling locally is rooted in the sense of community and the thoughtfulness inspired by carefully crafted objects.  
"We love seeing how our customers style and use our textiles in their home.  Our work was designed to be versatile for interior spaces and we love the way our creative customers combine the patterns and colors with their own interior aesthetics."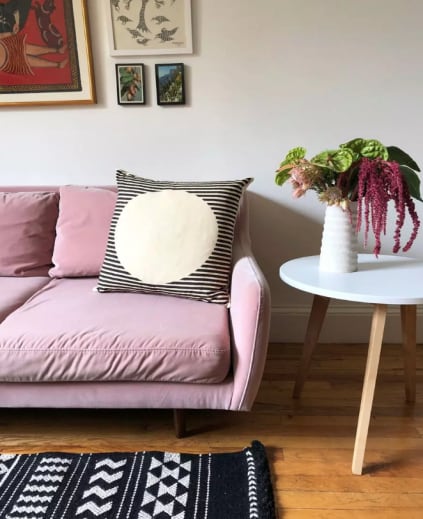 There is an entire process behind the creation of a specific design and this process connects everyone who is a part of it:
"We hope our work makes those who we sell it to feel connected to the community of textile artists who worked so hard to handcraft our textiles. We also hope the quality and beauty of our work inspires people to shop thoughtfully and invest in mindfully created goods."
One of these mindfully created pieces which happens to be their favorite as well, is a hand block printed and hand dyed Myna throw that was made to showcase the many shades of indigo.
"The pattern is made by printing with dabu mud resist and hand dyeing the textile in indigo twice to produce three rich shades of beautiful indigo.  The throw is then hand stitched by local women in a nearby village. We love that it's a versatile piece that can be used on the go or in different spaces and that so many people were involved in making it."
From wall hangings to pillowcases and custom rugs, Sunday/Monday's designs not only inspire, they also connect. Their research process is itself rooted in connections, seeing as their research consists of traveling through India and meeting different regional artists. For Sunday/Monday, seeing their work in the wild is very gratifying.
"It's so rewarding! It's a long process from conducting research and finding inspiration then drawing out designs, testing samples, and finally to actually block printing or weaving our handmade textiles."
Indeed, there's a certain beauty in seeing such intricate work in other people's spaces. Sunday/ Monday's work definitely brings life to every space it graces.
Heather Levine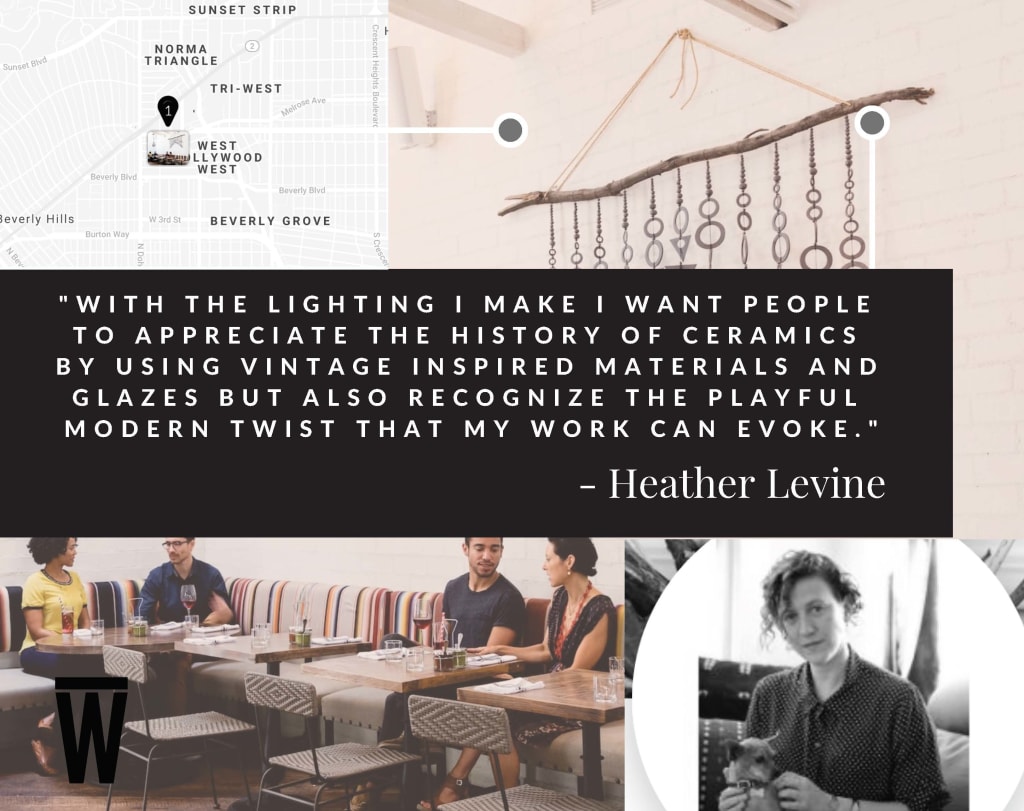 Heather Levine is a Los Angeles-based ceramist whose work originates from playful tweaks on existing designs. She uses stoneware and a curated color palette to create modern and playful designs, both minimalist and elegant: her handcrafted ceramic wall hangings, lamps and objects are inspired by Scandinavian design and California's mid-century landscape and textile designs. You can find her work in various spaces, from the Ojai Rancho Inn to the Le Mary Celeste Oyster bar in Paris. For Heather, what started as a hobby and interest eventually became a business and she has been working with clay for 25 years.
"I am always trying to figure out a new way to make something unique and make sure it feels like something that came from my me. It is challenging and exciting when you figure out an idea that works and has a function as well, such as lighting. The patterns created with the holes are what I think make my pieces unique to me."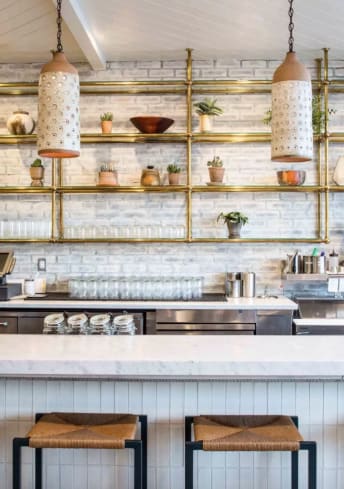 We asked Heather about her favorite part of seeing her work in others' spaces:
"My pieces always mark a time in my life and I can relate to them on a personal level that reminds me of where my head was at that time."
As for the impact that she hopes her work has on those she sells it to, Heather highlights the delicate aspect of handmade designs:
"That it is understood that all my work is one of a kind and all handmade by a human.  And the fragility of the work is visible which holds a message to take care of the piece and others.  Be gentle."
We can see so much of an artist through their favorite pieces, what they mean and the story behind them. We thus asked Heather about her favorite design:
"There is a wall hanging I made that no one ever chose or noticed.  I was so surprised that it was in my studio for over 3 years. I took it home and I look at it every day in my bedroom.  It's still one of my favorites that I can only see the beauty in it. It plays with scale and a muted palette and different shapes in a unique and uncomfortable way."
If there is one thing about shopping locally, it is that no two items will be exactly the same. Every piece is unique and what doesn't appeal to one person will certainly appeal to the next. In the end, we are all drawn to beauty but also to imperfections, to small traits or characteristics that awaken a part of our pasts or our present. Heather's favorite piece shows us that we can find beauty in the unexpected and in the seemingly unwanted. Shopping locally invites us into a world of design and objects that are bound to surprise us in some way.
Not only does this myriad of unique options benefit the design-lover and consumer, but it also benefits creators and spaces all around us. Shopping locally creates a direct exchange not only of physical objects but also of ideas and personal connections. It creates a community. In the end, every space, creator, and design-lover values what Wescover values: the stories that make up a space.
We asked Heather about what it felt like to see her creations 'in the wild':
"Satisfying and a bit jealous. They usually get to live in homes much nicer than mine."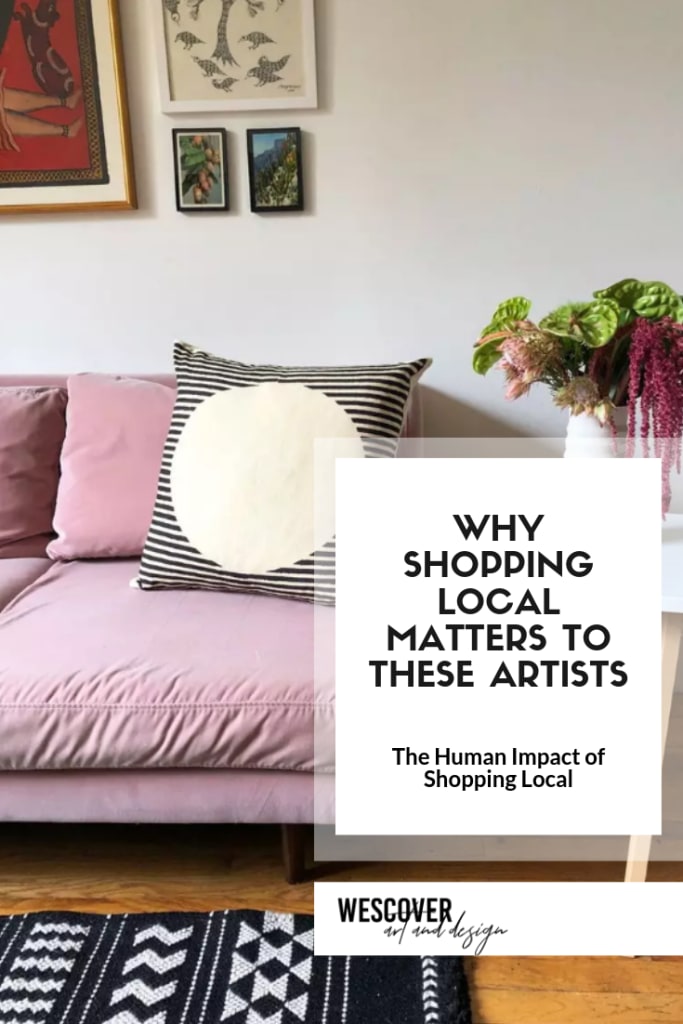 Here at Wescover we are so excited to learn about individual artists and help Creator communities thrive. See more unique designs and, especially if you're creating a new space, take a moment to explore your local artists!