35 Reasons to Love the William Vale Hotel – We're here now!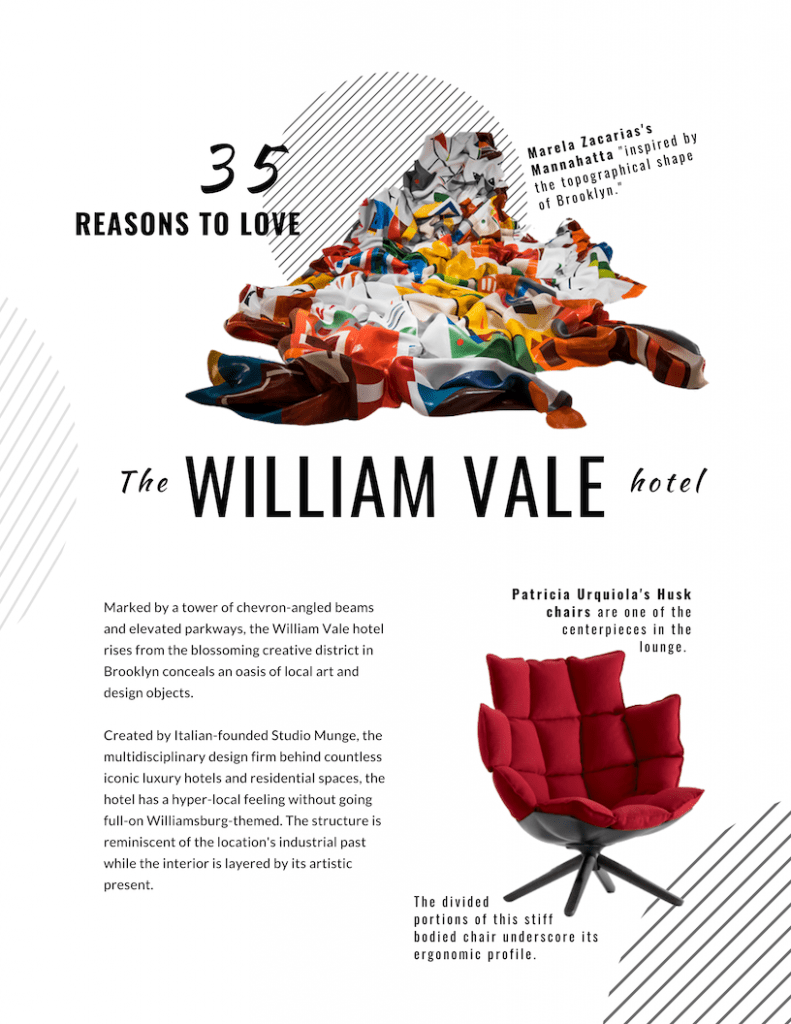 We're in the heart of Brooklyn surrounded by design details at
The William Vale
hotel this week! Created by Italian-founded Studio Munge, the space has well over 35 original works of art and design to discover (with even more since we brought in so many Creators for the
Independent Lodging Congress
).
When we think of design, we think of surpassing the boundaries of thought and bringing to life visions that change our overall perspective of the world as we know it. In creating the design space of the William Vale hotel, multidisciplinary design firm Studio Munge desired to develop interiors that were representative of the structure's reminiscence of Brooklyn's industrial past yet remain rooted in its artistic presence. From the selection of delicately-crafted tile work to the implementation of locally designed furniture, Studio Munge has not only succeeded in creating another iconic space but has also brought forth a new generation of thinking inspired by Brooklyn's individuality.
The William Vale is the product of the collective work of imaginative creators, artisans, and designers, but did you know that it was one of the first-ever Wescover White Glove Spaces?! White-Glove Spaces is an exclusive initiative to map the interiors of exceptionally design spaces. Among the 35 elements the William Vale team revealed are works by renowned furniture designer Reza Feiz, Light painter Matilde Alessandra, and playful sculptures by Marela Zacarias!
Check out these reasons to love William Vale from our event book: