The Color Shaman: Chor Boogie's Vibrant Mark on The Map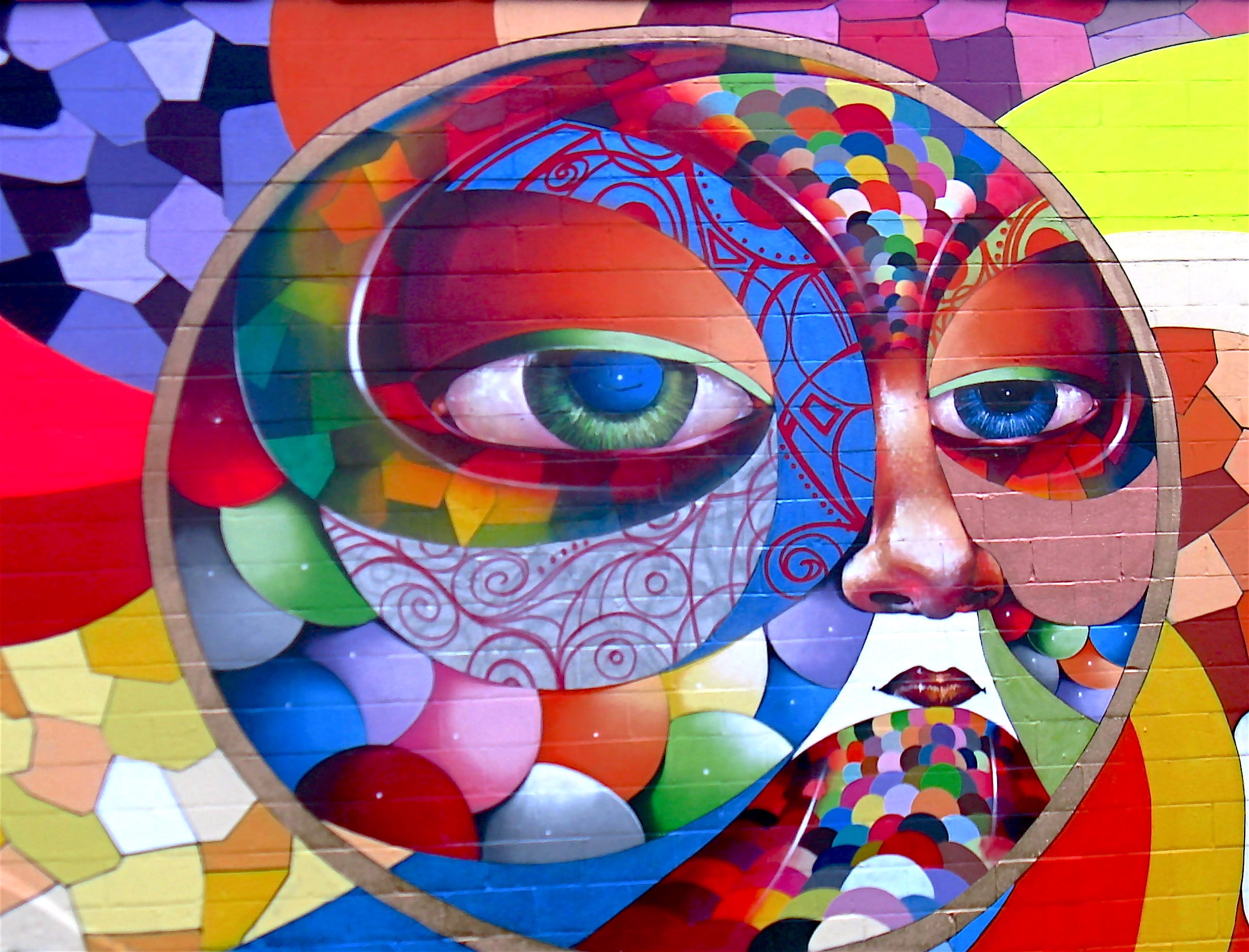 When the Color Shaman works, bright tones and mystic symbols leap from his can of spray paint. Characters like Intergalactic Cats and Corporate Zombies climb 20ft tall walls, leave trails of color, and gaze from their perches with huge soul-searching eyes. While you can refer to the artist in many ways—a Starchaeologist, Mr. Boogie, The Color Shaman, simply Joaquin—don't just call his works "murals." Visit one of these trippy, towering paintings and you'll agree it's a dose of visual medicine.
Chor Boogie is an artist on the move and we were lucky to catch him. Somewhere between Africa and Salem, we connected to learn a bit more about the artists behind the murals we've spotted all over the world and in our own backyards…
When people ask you, What do you do?—how do you answer? 
I am an artist, no doubt. But since I create Modern Hieroglyphics, I'd say that my professional title is Starchaeologist or Starchitect––practicing the Art of Knowing.
Have you stumbled upon any spaces you'd love to get into?
Stumbling upon spaces that I would love to see beautified will never end for me, but ultimately I love it when my artwork literally provides the vision for a space that someone has a connection with.
How do you describe the people/businesses who commission/buy your works?
I describe them as Lovers, people who love my work for the sake of just purely loving it. Some may also include it as an investment purpose, but they still love it.
How did you find your medium? What else have you explored?
I would have to say my medium found me. At the age of five, my kindergarten teacher asked me if I wanted to play duck duck goose—or do this magical creative thing with paint brushes. I chose the brushes, and from there I started to create a self-portrait in all colors. It was actually a big sloppy mess of colors, but it was my breakthrough of using a lot of color. My kindergarten teacher, Mrs. Henderson, came up to me and asked me if I liked it. I told her, "When I grow up I'm going to be an artist." I have been an artist since I was five years old, but at the age of 13, me and spray paint became lovers. I've explored other mediums, but once I found spray paint, it was all uphill from there.
How do you describe your style?
I describe it as Modern Hieroglyphics: the fundamentals of originality that speak to you through the mind body soul.
What fuels your growth as a creator?
Self-reliance and dedication. I'm the only one who can control my growth, and I'm the one who can take it as far as I need to.
What kinds of venues/spaces/people did you most enjoy working with? How do you connect with them?
I have enjoyed working with all types of people from Playboy to museums, and all types of venues from the Olympics to the Berlin Wall. I just like working with all types of people and spaces that love working with me—and we get along just fine.
What challenges do you face with your work––whether it be physical, logistical, emotional, etc.?
There are a lot of challenges that go into the creative process, but the most important thing is that I know who I am and I keep everything honest with myself and everyone I come in contact with. Sometimes there are tight deadlines on big murals. In crunch time, I'll work between 12 and 17 hours straight. Sometimes I work in extreme heat, such as in Dubai or Miami, and other times I work in extreme cold, such as in New York.
Painting as much as I have, it has literally changed the shape of my hands. And all of my work is freestyle. I don't do sketches in advance and I don't use projectors, so it comes to me in the moment and I have to make it happen. And very rarely, there are vandals who don't understand or respect the real culture of street art, and that's sad to see after I've put 25 years worth of love into a wall. But I love what I do, and I love creating visual medicine for the soul. It's all worth the blood, sweat, tears, and years.
What did you create on your recent trip?
The last thing I created was a large scale 20 ft. x 40 ft. canvas in Amsterdam for the new Street Art Today museum, which is not yet open to the public. It's inspired by the cycle of life and death, all the senses, and elements…. Pretty much everything that created our human existence. I called the piece Within.
What does travel/discovery mean to you? Does it inspire you?
Travel is fun. Discovery, especially self-discovery, is even better and when it fuels the fire of inspiration. Learning about new places and environments fuels the inspiration as well.
Any artists you've seen that you'd love to collaborate with?
First off, my brothers in arms PHASE2, RIFF170, VULCAN, and Trek6 are always my first picks in collaborations. And were they still alive, Michelangelo, Caravaggio, and Klimt would be ones I'd love to collaborate with.
Any artist you've collaborated with that the world should know about?
I have collaborated with lots of amazing artists, too many to list here. That's a blessing. However, I'd love to invite people to visit my most recent collaboration with Trek 6, Love Your Momma, in the Wynwood Arts District in Miami at NW 23rd St & NW 5th Ave. There's nothing like seeing a mural when it's fresh.