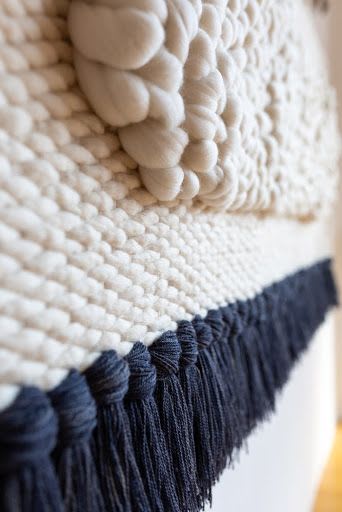 +2

Shipping: shipping in the US, ask the creator about international shipping.
Item Details
This large scale 88" x 51" handwoven tapestry weaving is constructed from all natural materials, mostly sourced within our Fibershed system and has a lot of custom elements that are one of a kind.
She is hung on a beam of solid walnut wood, custom designed & milled specifically for this piece, locally in Rohnert Park, CA. The weaving middle, the fluffy part, is constructed from Rambouillet sheep wool roving, Carbon & Climate Beneficial Wool from Cedarville, Ca. The bordering, flat white, is 100% New Zealand Sheep's Wool that is Hand-felted by women in Nepal as they rebuild their lives from the 2015 earthquake and ongoing development challenges. The blue fringe is a mix of Luster long wool, alpaca and kid mohair blend. It was grown & hand dyed in Napa, by the owner of the sheep, custom for the piece. A single sheep named Peanut provided all the wool and the name of this textile piece.