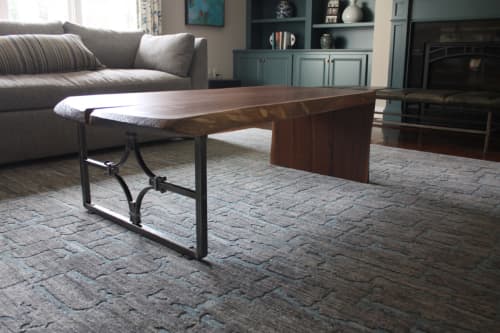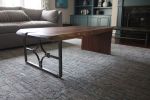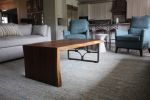 +5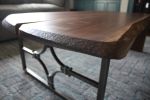 Live Edge Waterfall Coffee Table
Inquire about Comissioning a Custom piece
Living rooms serve as a place to gather and converse, and you want a table that draws people in. This live-edge walnut coffee table does just that. A waterfall edge highlights the grain of the wood as it rolls from the top onto the side. The natural beauty of the live edge let's itself shine on both sides.
As with every piece, there are hand-carved details. Sometimes they are subtle and almost whisper. Other times, like in this piece, they really accentuate the work of the hand. As you run your hand across the bevel, it dives to the underside of the top. Hand gouges are used to create a textured end cap, making the table not only please to the eye, but satisfying to the touch.
Custom metalwork is done by Phoenix Handcraft. The way Kyle manipulates rods of steel and transforms them into table bases, rails, and so much more is a true work of art. Incorporating his meticulous iron-working skills was a real treat.
The room is designed by Tracy deShazo Interiors. I love the opportunity to collaborated with designers, and this live edge coffee table looks perfect in the middle of her beautifully designed space.
Dimensions can be customized
As shown is: 56" x 26" x 18"
Walnut, Hard Wax Oil
Have more questions about this item?