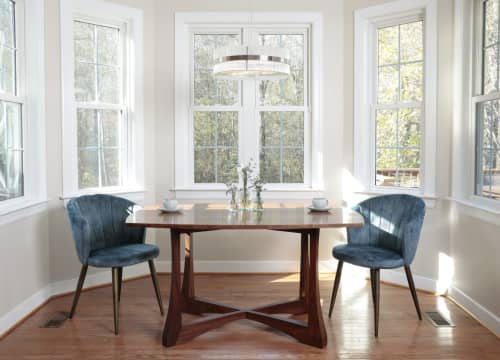 Image credit: photo credit:David Hunter Hale, davidhunterhale.com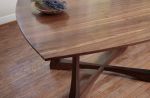 +7
Curved Top Dining Table (in Walnut)
Inquire about Comissioning a Custom piece
A dining table perfect for your favorite eating nook. Designed to have a feminine touch, this kitchen table has gentle, elegant curves throughout. A half-lap crisscross base gives and open, contemporary table base. The soft curves of the top compliment any modern furniture style. The edge has an underbevel carved by hand that is as inviting to the touch as it is to the eye.
An elegant table that will elevate the interior design of your home. With hints of Danish Modern style, this table bridges aspects of contemporary, chic, and modern furniture. How will you design your dream dining table?
Dimensions can be customized
As shown is: 58" x 38" x 30"
Walnut, Arm-R-Seal, Monocoat
Have more questions about this item?