+1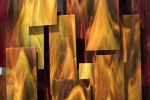 "Inferno" Glass and Metal Wall Art Sculpture
Custom Options Available.
Ask The Creator
For Customization.
Hypnotized by the dance of the flame, I felt a deep, burning passion run through my veins as if fire itself had replaced my blood. The power overtook me and created a new purpose for my hands: To serve this inferno. To bring it to life. To capture it. To share it. -Karo Martirosyan
Glass and Metal Wall Sculpture
Standard Sizes:
33"W x 42"H x 5"D
Contact us for custom sizes
Free Shipping in the US, ask the creator about international shipping.
Have more questions about this item?