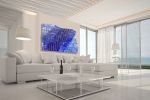 +1

"Coast 2 Coast" Glass and Metal Wall Art Sculpture
Custom Options Available.
Ask The Creator
For Customization.
The sway of the sea has always fascinated me. Shallow water, turns deep, back to shallow, and on and on. Ultimately, wherever you are in the world, you're connected to everyone, albeit with a little bit of open water in the way. The waves, the depth, the color, the mysteries, all of these come together in the undulating composition of "Coast 2 Coast". Let the light bounce across the glass tiles, or move alongside this glass and metal wall sculpture and you will feel the undulation of the sea from coast to coast. -Karo Martirosyan
Glass and Metal Wall Sculpture
Standard Sizes:
72"W x 36"H x 8"D
Contact us for custom sizes
Free Shipping in the US, ask the creator about international shipping.
Have more questions about this item?