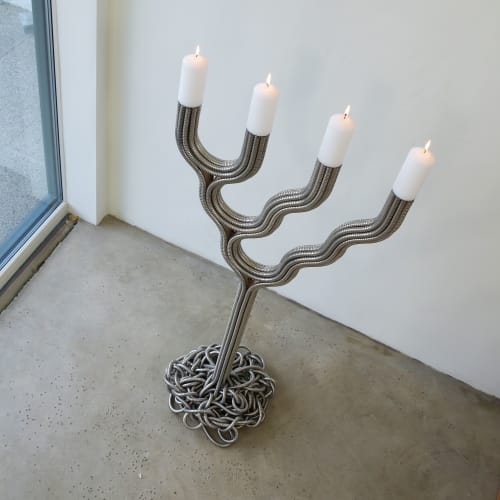 Context & Credits
As seen in
Private Residence
, Maastricht, Netherlands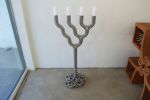 +7

15% professional discount ships from the Netherlands . contact me for shippingcosts
One of a Kind item
Inquire about Comissioning a Custom piece
Commission time: 6-8 weeks
Item Details
FLUX
rare beauty in everyday objects
Numerous experiments with materials and shapes resulted in a new production method: "Flux"
Flexible steel tubes are shaped by hand and become strong and rigid after curing.
Each item is handcrafted, shaped without the use of any molds or machinery.
Making each object a unique piece.
The shape is created free-formed by hand and bound by the flexible characteristics and radius of the material.
The "Flux"-series consists of organic and dynamic objects that are inspired by nature.
The way that plants, trees, organisms and rivers meander, grow and flow.
Seemingly random and chaotic, but following destinate paths.
FLUX -candelabrum
Floor standing candlestick / candle-holder
The base of the candelabrum is made of chaos: Steel tubes squirm, wriggle and coil organically
From the chaos rises a straight geometric stand.
It continuous to flow, and meanders into four arms.
The four arms can hold 4 diner-candles or four big candles.
material: flexible steel tubes / composite
dimensions:
width: 58 cm. / 22,8 inch.
Height: 122,5cm. /48 inch.
Depth: 41 cm. / 16,1 inch
Candle diameter: 5,7 cm / 2 inch or diner-candles
color: chrome finish
product weight: 18 kg / 39,7 lbs
bespoke custom made objects on request