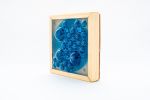 4x4 Framed Resin Wall Sculpture
Custom options available, ask the creator for customization.
Each 4-inch x 4-inch sculpture has multiple small cast geometric pieces layered inside of a 7/8 inch deep shadowbox.
Pieces are best for small spaces with indirect lighting.
Custom options include a choice of color, interior shapes, and either a smooth finish or a textured one.
The exterior frame is made of a light-colored wood (usually birch) that bonds to the sculpture during its creation.
PRODUCTION TIMES CANNOT BE RUSHED. 4-6 week turn around.
Things to know:
All Epoxy Resin pieces are transparent and are cast inside of a mold.
All Polyurethane pieces are opaque and are cast on top of a board or flat surface of some type.
All pieces are best in a temperature-controlled environment that has indirect sunlight.
Clean with rubbing alcohol/water mix or distilled white vinegar/water mix using ONLY.
Have more questions about this item?