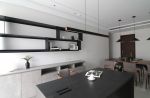 +4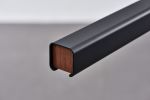 MUMU Pendant L/XL
Featured In Renton, WA
Designer Dian has been mastering the artistry of woodworking for years. He's always had an appreciation towards the organic nature the material exhibits. In the MUMU Pendant L, he utilizes the coolness of metal married with an LED light source, and counter-balances this with the warmth of the wood on both ends of the pendant. The MUMU Pendant L is available in two versions: Matt White with Beech and Matt Black with Walnut.
Material:
Aluminum & wood
Color:
Matt black + walnut
Matt white + beech
Light Source:
LED 32W (3000K, CRI 90, 2150lm)
Size:
L | L 47.2″ x W 1.8″ x MAX Hang Height 78.7″
XL | L 70.9″ x W 1.8″ x MAX Hang Height 78.7″
Wire:
Max 787.7"
Model:
SLD-3981P
Canopy:
Same as shade color
Shipping: UPS 2-3 days
Free Shipping in the US, ask the creator about international shipping.
Estimated Arrival: October 23, 2021
Have more questions about this item?