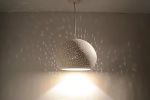 +5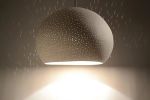 Extra large Claylight Pendant: 15" Pendant light
This pendant light is made of white ceramic. It Gives out plenty of soft light from its bottom and shines with light textures the ceiling and its surroundings.
Comes with hardware and matching ceramic canopy to connect it to an electrical box: the electrical box should be supported and able to carry up to 15 pounds.
This light is UL listed.
Shade Size:
15"L x 15"D x 11"H
Cord length up to 60''. Can be supplied with longer cords upon request.
We offer this pendant light with two light bulb options:
Incandescent: 72W dimmable standard screw bulb: more efficient in its energy use than a regular incandescent. (equivalent to a 100W incandescent) gives out focused light textures
LED: 15W dimmable LED light bulb that is 10 times more efficient in it's energy use than a regular incandescent bulb (equivalent to 100W incandescent), has a longer life span of 30,000 hours and a warm white light color. Gives out diffused light textures.
This pendant light has a standard medium screw socket and can fit any bulb up to 150W
Some costumer reviews we got for this light:
* * * * * "Worth every penny
this light is a show stopper. Fits an organic modern decor, adding understated flair. I get excited for the sun to go down so I can turn on this pendant, it creates a magical, nebulous atmosphere. We use a diffused bulb so the light patterns are subtle, the actual light becoming the focal point instead of the walls. BUY THIS PENDANT."
M.N 2018
* * * * * ״Absolutely beautiful pendant. Makes a huge statement in our dining room. Wonderful texture, very handmade looking and feeling. And the disco ball like shadows that it casts on the wall make the room come alive!״
A.G. 2017
Shipping: FedEx 1-5 days
Free Shipping in the US, ask the creator about international shipping.
Estimated Arrival: November 15, 2021
Have more questions about this item?