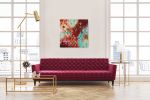 Sentimental 36x36" Original Painting
This is an original painting, 36" x 36" acrylic and fabric on 1.5" deep cradled panel. The sides of this piece are wood that's been sanded and finished with wax, so the piece can be hung without a frame.
"Sentimental" includes a hand-painted striped design, based on vintage wallpaper patterns. If you look at the ogee shapes near the bottom of the piece, you can see the base fabric pattern peeking through.
Shipping: FedEx 4-6 days
Free Shipping in the US, ask the creator about international shipping.
Estimated Arrival: October 31, 2021
Have more questions about this item?