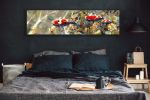 I love doing a mock up of my artwork in a room. This one is called Clan and its all about family. I was expecting my youngest when I painted this, and though you only see three fish there are really four. For me, this painting is very special. I will always cherish it as my first creation I made for just me. Its now loaded with meaning filled with love and protection and hope.
$23 Shipping in the US, ask the creator about international shipping.
Have more questions about this item?