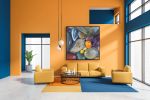 +1

"No Place Like Home" Print - Paintings
Painting pebbles is fascinating to me. The way the light shines on the wet surface and how each one has a different texture or feels translucent. This painting collection has special significance. I brought my kids to the beach and we all chose our favorite pebbles. Watching the kids get totally engrossed and excited about this is just amazing. I can't resist picking up stones when I'm on the beach. We have also decided to bring all of our pebbles back to the beach once Mammy is finished painting them. I love this idea. Returning the pebbles is just as important as collecting them. I'm always banging on about saving the world to my kids, so this is a lovely way to teach them about the environment too, because, if everyone took a bucket of pebbles home there would be no beach to come back to!
$23 Shipping in the US, ask the creator about international shipping.
Have more questions about this item?