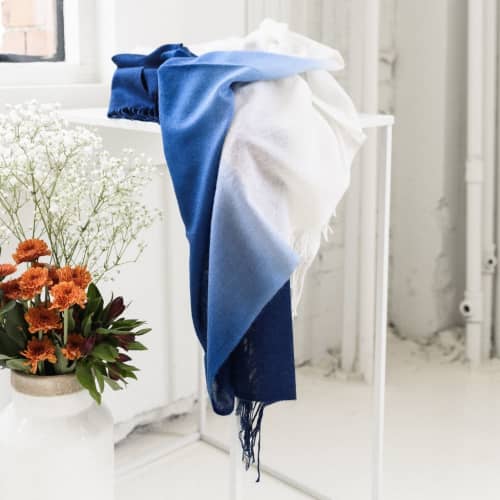 +4

Azure Throw - Linens & Bedding
Azure throw / blanket luxuriously combines heritage value & high quality craftsmanship. The soft feel of cashmere and merino adds more value to this classic design. This light weight throw / blanket is incredibly soft to touch and wears well over time, perfect as a gift or a personal purchase.
​
Each piece is individually dip dyed entirely using earth-friendly dyes. The design is comprised of subtle color gradience called ombre effect, that is soothing to the eye and will make any interior space stand out. The beautiful hand rolled long fringes add unique character to the throw.
Size: 200 X 100 cm
Material: Merino & Cashmere
Colors: Indigo Ombre Dip Dyed.
Artisan base: Ethically & responsibly handwoven by artisans in Nepal.
​
Shipping: UPS 3-5 days
$15 Shipping in the US, ask the creator about international shipping.
Estimated Arrival: November 2, 2021
Have more questions about this item?