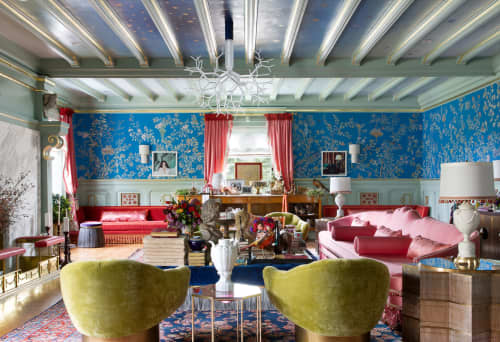 Image credit: Suzanna Scott Photography



+10

Featured In SF Decorator Showcase 2019, San Francisco, CA
Jonathan Rachman was this year tasked with designing the Entertainment Room at the 2019 San Francisco Decorator Showcase. Jonathan's Entertainment Room draws inspiration from Houghton Hall, one of England's most beautiful historic houses, designed by William Kent in the 1720s. Jonathan Rachman first fell in love with Houghton Hall when he was invited by the Marchioness of Cholmondeley and Claud Cecil Gurney to a very special dinner hosted there in celebration of de Gournay's reproduction of Houghton's famous 18th Century Chinese wallpaper.
The iconic 'Cabinet Room' and all the fellow State rooms were candlelit for the occasion so that guests could experience the interiors, and particularly the antique wallpaper, as it would have been seen in the 18th century. Making the occasion even more special, unused panels from the original wallpaper order in the late 1700s, recently discovered by the Marchioness in the attics, were on display for the very first time.
Unexposed to light and air the four exquisite panels maintained the amazing vibrancy of colour as the day they arrived in England over 250 years ago. The sensational cobalt blue wallpaper stood out to Jonathan and he remained determined to create an interior in which to install de Gournay's faithful reproduction.
It was not only the wallpaper at Houghton Hall that inspired Jonathan. The dinner itself was an unforgettable occasion. A single table for 80 guests was laid in the Gallery Room surrounded by exquisite artworks and with beautiful views of the famed gardens. During the evening, Rachman was mesmerized by the grandeur of Houghton's Stone Hall and the beautiful excess of the State Rooms. These rooms were originally designed by William Kent – with no expense spared – to impress Sir Robert Walpole's (Britain's first Prime Minister) distinguished guests. Nearly 300 years later the rooms were even more awe-inspiring having held their beauty so faithfully. Houghton's interiors were permanently imprinted on Jonathan's mind.
Upon arrival in San Francisco, he was determined to design a space that was inspired by his visit to Houghton Hall. The Petit Trianon in San Francisco seemed the perfect setting to realize this vision. In his Entertainment Room, Jonathan imagines the W at Houghton Hall after a long State dinner when most guests have retired and the family continue – in their finery - to entertain a few dear friends in this family room....
Certainly, these were occasions (and a room) to remember!
'Houghton' hand painted wallpaper by de Gournay, customized for Jonathan Rachman Design for his Drawing Room at The Petit Trianon.
Have more questions about this item?