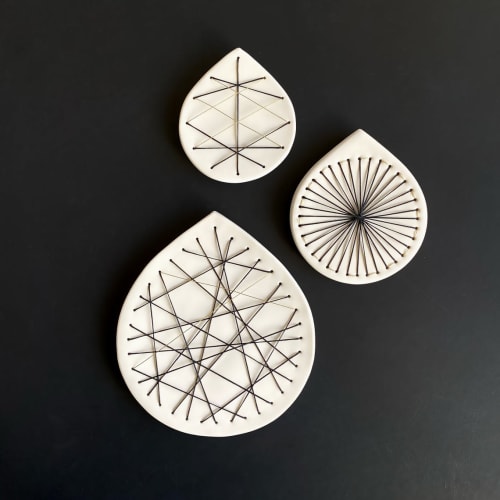 +3

OOAK Abstract Geometric Wall Art - Set Of 3
These three abstract black and white geometric ceramic wall art sculptures are hand pierced and hand stitched through pure white porcelain. They combine my loves of geometry, pattern, textiles and ceramics.
SIZES:
The largest measures approx 7 inches (18cm) and the smallest 4 inches (10cm) Arranged as pictured, they take up a space around 12 x 10 inches (30 x 25 cm)
INSTALLATION: Each piece needs one small flat headed nail or screw in your wall.
They are from my original wall art range, and are unique pieces. Each hole is painstakingly made, then they're fired super hot and later stitched through. These take lots of patience and a very steady hand!
You can arrange them in lots of different ways to suit your space. They're easy to hang, each from one flat headed nail or screw in your wall.
This listing is for three in black and white with golden brass details, as the main images. Other images are to show alternative colours and arrangements.
Buyer can reach out to the creator directly if there's a more specific time request.
Shipping: 14 days
Free Shipping in the US, ask the creator about international shipping.
Estimated Arrival: September 20, 2021
Have more questions about this item?