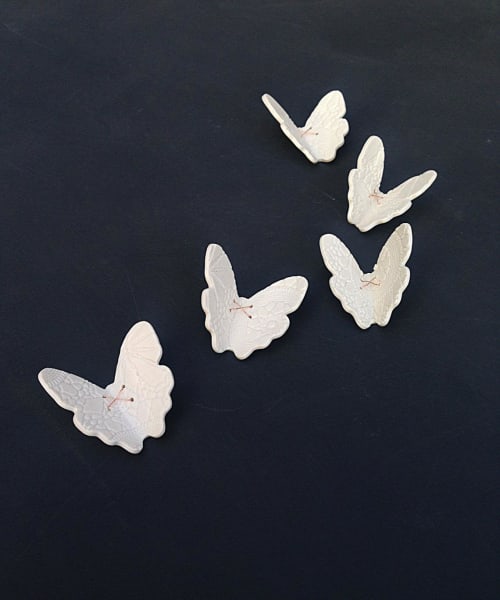 +1

5 Copper & White Porcelain Ceramic Butterflies
Titled "Flutter," this set of five pretty 3D butterfly wall art sculptures are like jewelry for walls and their wings will cast shadows that change as the light changes throughout the day.
Each butterfly measures approx 2.5 inches (6cm)
Every one is unique and hand crafted from pure white English porcelain. The texture and pattern on the wings comes from delicate vintage crochet, and they are finished with pure copper wire. No two are identical, so yours will always be a unique set.
They are super easy to hang and you can arrange them in any way that suits your space. Because they are five separate butterflies, the arrangement can be adapted to suit even really tricky spaces! They're sweet above a headboard, stylish in living spaces or hallways and they won't mind a little steam, so they are great for bathrooms too.
This listing is for a set of five butterflies with copper wire. Larger and smaller groups are available on request and with different coloured wire - please contact me for details if your desired number is not listed.
Buyer can reach out to the creator directly if there's a more specific time request.
Shipping: 14 days
Free Shipping in the US, ask the creator about international shipping.
Estimated Arrival: September 20, 2021
Have more questions about this item?