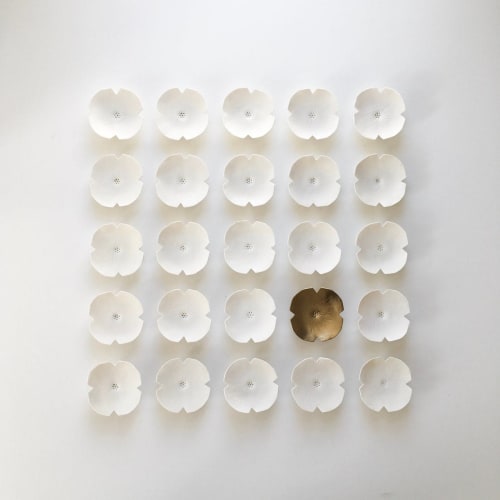 +2

Set Of 25 Ceramic Flowers White & Gold
This set of 25 wall art flowers is handmade from porcelain and each flower measures approx 10 cm, (4 inches) so arranged as pictured the set would take up approximately 63 cm square (25 inches), but could be stretched a little larger depending on the spacing between each flower. If this isn't big enough for your space, get in touch to commission a larger set!
The set is titled 25 Graces, and it is available in white and gold as pictured or all white. If there's another colour you would prefer, please contact me to discuss - I have a wide range of colours available and I love special orders.
The flower sculptures stand out from the wall and will look minimal against light or neutral backgrounds or dramatic against rich, dark backgrounds. Their shadows move as the light changes throughout the day and I like how that gives them a life of their own.
Buyer can reach out to the creator directly if there's a more specific time request.
Shipping: 14 days
Free Shipping in the US, ask the creator about international shipping.
Estimated Arrival: September 20, 2021
Have more questions about this item?