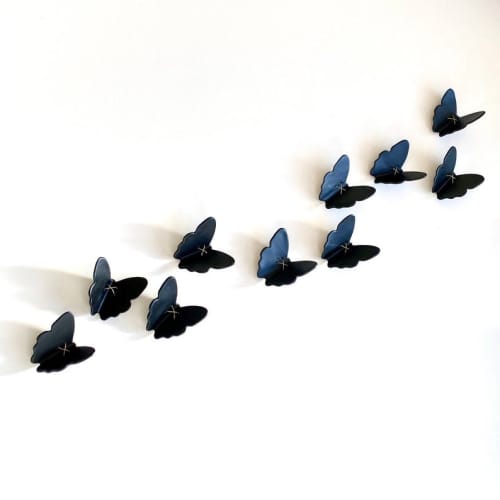 +8

Set of 10 Butterflies with Metal Wire
Other People Want This. 2 People Have This In Their Carts Right Now.
It's fun to arrange this set of ten black 3D porcelain wall art butterflies! They're like jewelry for your walls - the wings will cast shadows that change as the light changes through the day.
There are 10 smooth black butterflies in this set. Each butterfly measures approx 2.5 inches (6cm) so arranged as in the first image, they take up a space approx 22 w x 19 h inches ( 56 w x 48 h cm) but this could be altered to fit your space depending on how you arrange them.
Each butterfly sculpture is hand crafted from pure porcelain with a black surface treatment and finished off with golden wire.
They are easy to hang and arrange in any way that suits your space, and will add a touch of drama to your home decor. Because this wall art set comprises lots of separate butterfly sculptures, it is extremely flexible, and can be arranged to enhance even really tricky spaces.
Larger groups and groups with alternative textures and colours are available on request - please contact me for details if your perfect number isn't listed!
Because of the handmade processes I used when making these, no two can be identical. Yours might vary a little from the exact ones pictured, because each is unique, but they will be very similar and equally pretty, I promise!
This listing is for ten black butterflies with plain smooth texture as pictured in the first images. All other images are to show different finishes that we can make. If you would prefer a different combination, or the lace texture shown in the last image, please get in touch so that I can make a special set for you.
Buyer can reach out to the Creator directly if there's a more specific time request.
Shipping: 14 days
Free Shipping in the US, ask the creator about international shipping.
Estimated Arrival: November 16, 2021
Have more questions about this item?