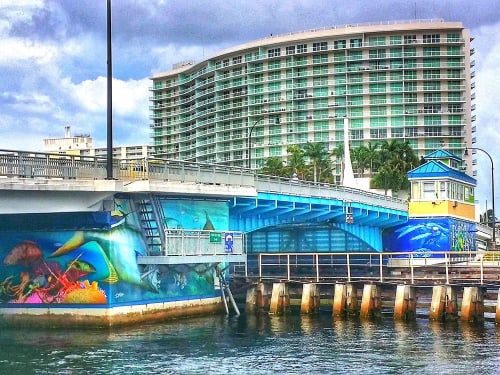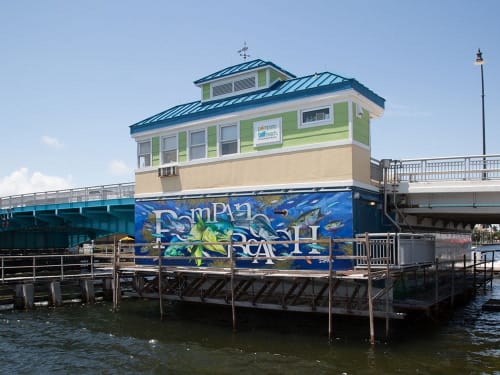 Context & Credits
Item
Pompano Beach "Atlantic Harmony" Bridge Project
As seen in
East Atlantic Blvd., Intra-Coastal Bridge in Pompano Beach, FL
, Pompano Beach, FL


+15

Pompano Beach "Atlantic Harmony" Bridge Project
Item Details
In 2019 Dennis Friel completed the Atlantic Harmony mural installation project that can currently be seen on the Atlantic Boulevard Intracoastal bridge in Pompano Beach, Florida.
The City of Pompano Beach commissioned Dennis to complete over 283 linear feet of artwork as part of their $5 Million renovation project which included two large tensioned sails at each end of the bridge with a computer-operated lighting system allowing the sails to change colors for special occasions.
Today the artwork underneath the bridge welcomes boaters and sightseers alike as the new promenade underneath the bridge connects the north and south sides of Atlantic Boulevard leading to a viewing plaza on the Intracoastal Waterway. It truly has become a landmark destination for residents and visitors that can be viewed at many vantage points such as local marinas, restaurants and of course by boat.
Pompano Beach Mayor Rex Hardin, Broward County Commissioner and former Mayor Lamar Fisher and a host of City Commissioners and residents were on hand for the grand opening ceremony to inaugurate the lighting of the sails with a celebratory christening complete with champagne bottles. Immediately following the ceremony, guests could walk along the new bridge promenade to view the artwork and meet artist Dennis Friel who was on hand for signing complimentary art replicas. It was a beautiful night that included live music and refreshments.