Solid Wood Furniture Driven by a Passion For Design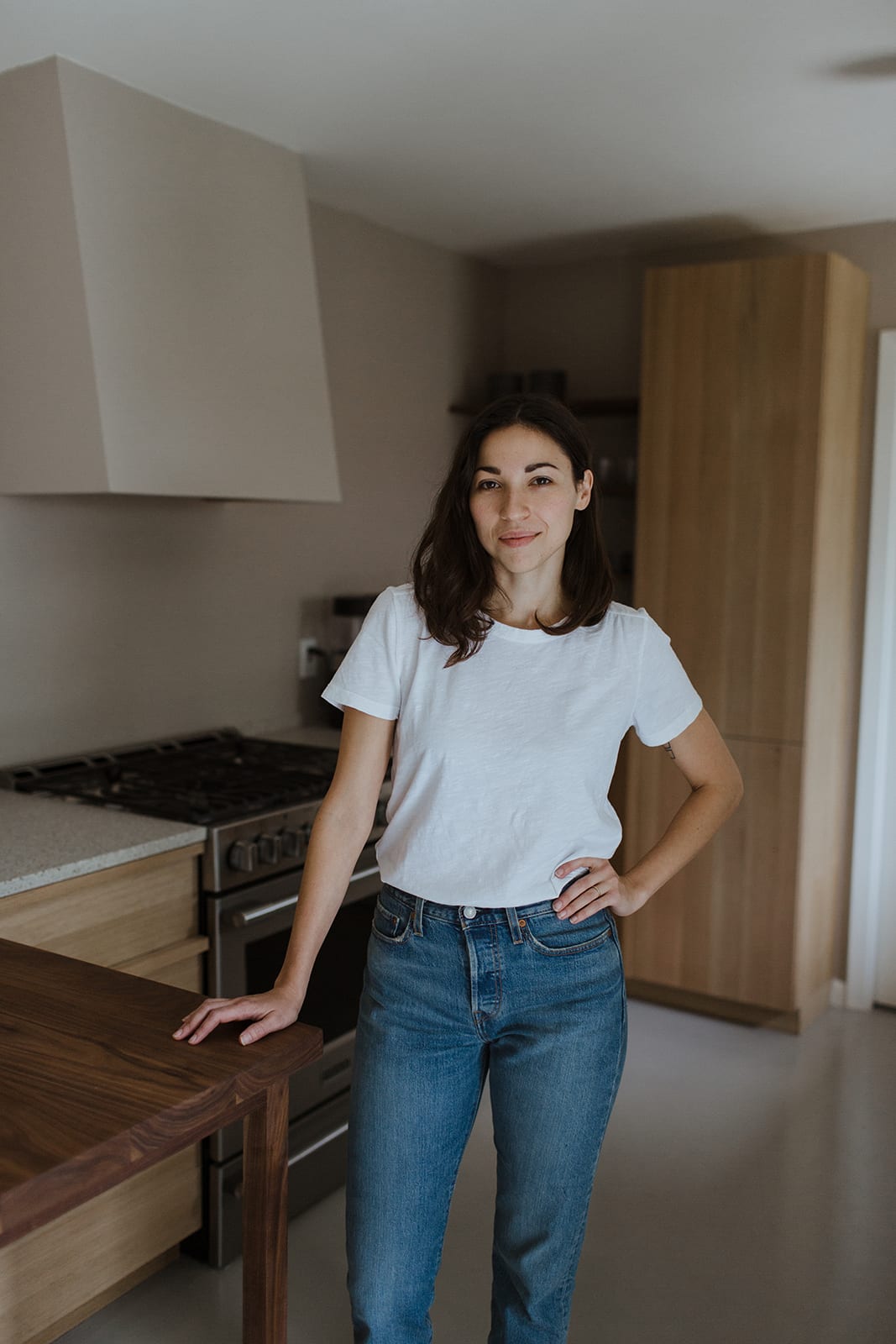 Based in Austin, Texas, Half Halt is a contemporary furniture brand creating beautiful, handcrafted designs for contemporary spaces. We sat down with Adrienne Romine, founder of Half Halt, 

to learn about her inspiration for the brand, how she got her start, and more.
How did you first get into woodworking and what inspired you to start your company?
I went to school for painting and during that time we would build our own canvases to save money. That was really my first time building things. Then out of college, I got a job doing window displays for Anthropologie and that was my first foray into 3-D.
I didn't know what I was doing, but I was like, "This is fun. I love this. Why have I never taken a sculpture class before?"
I did that for a year because I was thinking, "I'm just helping you sell dresses and candles," and I wanted to build things of substance. I don't remember exactly how it happened, but I've always loved furniture and design and thought I should learn to build furniture.
I got a bunch of used tools on Craigslist, used the shed behind my brother's house, watched YouTube videos, and learned woodworking. I was pretty bad at it for a couple of years until I got good enough to get an entry level job in a professional shop.
That's really where I learned how to do woodworking with other skilled craftspeople. I worked for other people for about four and a half years, but I've always wanted to do my own thing.
At that time I'd be working for hours on other people's projects and I'd be designing things I wanted to make in my head or writing them down on my scratch paper. I always have a flood of ideas and so I thought, "I need to be making these," and then I started my business four and a half years ago.
What kind of products do you create and how do you describe the kind of work you create? Do you think that shifted over the past four years of running your business?
I make freestanding, solid wood furniture that has a warm, contemporary vibe. I always think about including a little bit of a playful element or some little detail that's slightly unusual.
But as far as how that's evolved over the last four years, I think a lot about how I might differentiate myself because there are so many amazing furniture designers out there. I think in the beginning I was designing things that had more broad appeal.
Of course I still want broad appeal, but I have been trying to distill something that is the most authentic to me.
That's where my head is at right now.
What does the creation process look like when you're designing a new piece? Do you tend to get inspired to create new works, or do you iterate on past designs to bring in that authentic perspective?
I get ideas in two ways. When I'm doing the dishes or walking the dog and just letting my mind wander, I create that space that a creative person needs to just let things flow and mix.
Or when I'm in the shop building something and there's a really interesting off cut I'm thinking "I'm going to stick them all together," and that happens a lot. 
I think I'm really drawn to brand new ideas. And we do design as a team as well. There are some really talented designers on staff and we will go back and forth modifying it from there.
Do you create custom pieces often? Do you feel you have a collaborative energy when you're working with an interior designer?
Yeah, definitely. We do a lot of custom work and that's another easy way to stand out because there's a lot of amazing furniture out there.
I usually try to propose a safe idea and then a more wild creative idea. I'm always trying to meet the design brief, but I'm also trying to push it just a little bit with like, "okay, so we could do that, but we could also do this. What do you think about that?" That's my approach to collaborating with folks. But, yes, most of our work is custom, so we do that all the time.
How do you incorporate sustainability into your work?
We only use domestic lumber or lumber from Canada. We don't use anything from South America, lumber that has to be freighted across the ocean, or a species that may be endangered.
Also, I feel like we're always trying to do something with the scraps so that they're not just thrown into a landfill. A lot of times we do a free firewood day where we say, "come on by and get a bucket of wood scraps," so at least it's getting burnt in a backyard and not just tossed.
Are there any details regarding the care of your products that are important to share?
I would say most of what we make is made out of white oak and that's one of the most durable, tough woods out there. This kind of wood was even used to make the ships that would cross the Atlantic, so it can handle the flex of the seasons.
Then we use a penetrating wood finish, which is basically something that you might have to re-up every few years if you want to refresh the oil. It means that it's a living finish and it's super repairable. So you just want to wipe it down with water and a mild soap. It requires a little bit of gentle maintenance, but in the long run it is much easier and will look better.
Do you feel there have been specific challenges being a women owned business in the furniture and woodworking space?
I just feel like a part of the community. I will say in the beginning, I did name my business something other than "Adrienne Romine Design," because I kind of wanted to hide a little bit. 
Sometimes I'll go to a trade show and someone will be like, "oh, does your husband help you with this?" And I'm like, "does your husband help you with your job?"
But for the most part, and especially within the community, so many people are so supportive.
Also, now I feel like I'm in a sea of female woodworkers just because I know them all. We're all friends, and so I don't necessarily feel unique, but I probably bring a certain kind of femininity to the way that I design and run a business that I'm unaware of- but I imagine that's part of our uniqueness as a brand.
What has been the most fulfilling part of running your company?
Probably the personal development required to keep it going because I went to art school, I didn't go to business school.
I've had to learn and grow a lot. I learned how to manage, become a boss, and be a leader. I still have a long way to go, but I think that's been one of the most fulfilling things.
And then the other big one is seeing my work when I visit a client's home. It doesn't happen very often, but occasionally I do, and they're like, "look, we use it all the time. It has this nice patina because the kids always sit here, and I always sit next to this thing and read my book."  Seeing people use the stuff we make and love it -that's everything. 
Thank you to Adrienne for telling your story, and dedication to not only Wescover, but the future of consciously made furniture and decor.