Creator Spotlight: Illuminata Art Glass Design
With over 20 years of experience, Julie Conway of Illuminata Art Glass Design LLC is no stranger to the phenomenal relationship between light and glass. Having studied with a handful of European glass masters over the years, her work is largely informed by the ancient techniques of glassblowing and the natural world. Working alongside different teams of electricians, installers, and architects, she shares her unique artistic vision with luxury hotels, bars, restaurants, and museums. Hear what Julie has to say about her process.
Creator: Julie Conway of Illuminata Art Glass Design LLC
Based in: Seattle, WA
Creates: Handblown glass lighting
Works as: A solo venture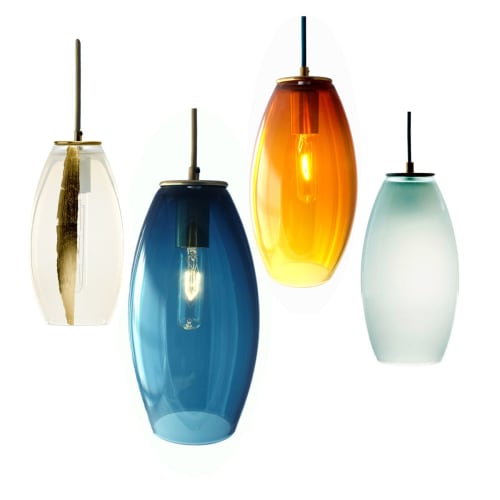 What's unique about your work?
Creating stunning bespoke glassworks that utilize the glass to refract and reflect light to create unique environmental experiences of light and shadow for interiors.
What do you want people to feel when they encounter your creations?
Stop in their tracks! Change their mood and feel transcended or inspired. Lighting sets the tone for so many spaces. My works are often the feature impact design element of residential or commercial spaces.
What is your favorite material to work with?
Glass, light and metal are my most passionate media. I have studied with glass masters from the US, Czech Republic, France, Australia, Turkey, Spain, and spent many years working with Venetian glass masters from the famed Island of Murano. I am today, one of very few select women who have worked in hot glass in the past 1000 years on Murano in Venezia.
How do your pieces come to life? Tell us one interesting thing about your creative process?
My creative process is a combination of explorations of how I want to see light reflected and refracted through glass. How can I bend light and create not only a gorgeous piece of glass, but the light and shadow patterns surrounding it. I am passionate about travel and culture and the history and thousands of years lineage of my glassblowing heritage. I love learning ancient techniques of glassmaking and applying a modern twist to make it my own.
What funny moments, unexpected surprises, or obstacles have you encountered?
Working with glass means there is nothing but the unexpected! Broken works, burns, cuts can be the downfall. Glassmaking can also be the most exciting material as it is always in motion; a balance of molten sand heated to 2100F and formed with our breath in a full dance of movement with myself and my coordinated team all working in tandem for one unique goal of accomplishing my design. Don't forget about my new Readymade Line called LUMi, on Wescover!
What motivates and inspires you?
Textures of light and patterns of nature. The grandeur and abundance of collectives of leaves, schools of fish, flocks of birds, etc. Also phenomena of space and light travel. Other motivations are the elevation of space into something spectacular.
What makes a space special?
I have built my career for over 22 years by creating specialized blown glass lighting and site-specific installations one client at a time. From a pair of custom pendant lights to a grand 2-story atrium feature in a public lobby, each project means the absolute world to me. For me, the space comes alive not only with my lighting elements, but how they are integrated with unique design elements that bring texture or complementary color or materials to the space to make it a full tactile and multi-sensory experience of design and peace.