Fefo Studio – NY based Argentinian chef & artist
"I don't consider myself a ceramicist, I just have curiosity for the process of transformation, that is my passion. This also occurred when I was a chef and baker."
fefostudio
New York, NY
Featured in dozens of publications including the New York times, Argentinian chef and artist Fernando crafts everything from ceramic tableware, lighting, to jewelry. Get behind-the-scenes with this insider video to meet his assistant and see his craft in action.
"I don't consider myself a ceramicist, I just have curiosity for the process of transformation, that is my passion. This also occurred when I was a chef and baker."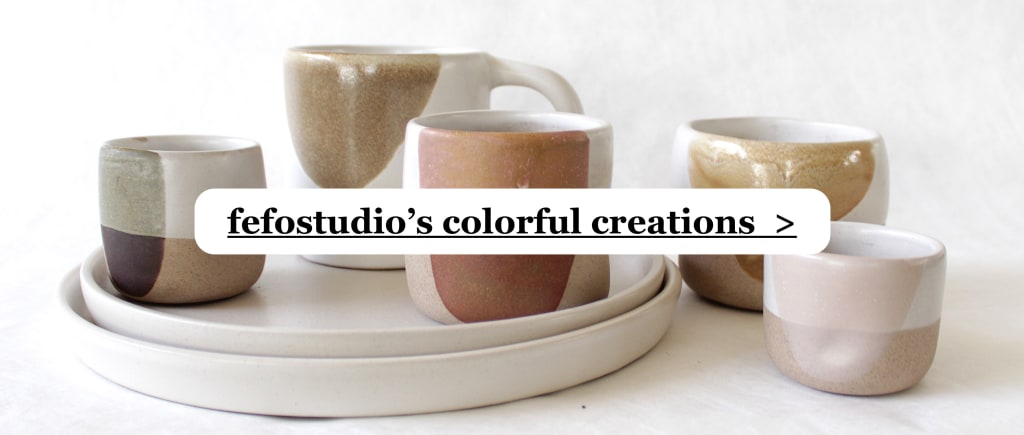 ---
What do you want people to do or feel when encountering your creations?
To feel a relationship with the shapes and textures beyond the immediate function of the object.
How do your pieces come to life?
Through curiosity, exploration, and no fear of perfection or failure. I am always open to the possibility of creating any object in any field of design.
What funny moments, obstacles, or surprises have you encountered as a creator?
FUNNY MOMENTS: My obsession for making molds and finding a new silhouette, as well as the use of new clay and glazes. Today my mood board uses 1/3 of my studio, I can't get enough.

UNEXPECTED: My favorite moment is when a piece breaks while we are trimming or sponging, a new product will come to life from the suggested new broken shape.

OBSTACLE: Time and space
What motivates and inspires you?
Sunny days, nature, and young people with ideas.
What makes a space special?
Good people, good vibrations.
---