Image credit: Ansen Seale


+1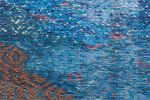 Handwoven tapestry of a Beach scene - Wall Hangings
Inspiration for this piece came from the beach. I wanted to portrait it lively full of movement and textures. Size: 33in x 33in. It is small enough to be framed if desired. It is handwoven with various fibers.
Shipping: UPS 5-7 days
$25 Shipping in the US, ask the creator about international shipping.
Estimated Arrival: December 12, 2021
Have more questions about this item?