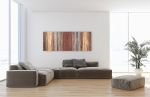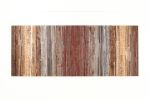 +3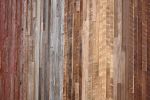 Gradient Lines - Wall Hangings
This piece is completely made of naturally aged wood from very old barns and houses that where taken down in my area.
There is no stain or paint used for the coloring of the wood, just what Mother Nature created. The red barn wood is original to the barn, it has been aged for many years to achieve this faded look.
These are truly one of kind pieces that will not be easy to replicate exactly. The exact one in the image is in stock and ready to be shipped out. This piece measures 60" long x 24" high x 2" deep
If you are interested in a custom size give me a shout and I will see what I can do at the time based on wood availability.
This piece is made up of 1/2" strips of various grey, red and brown tones. I sprayed two coats of low voc water based sealer to protect the piece without taking away from the look and texture of the reclaimed wood.
Have more questions about this item?