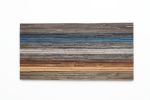 +3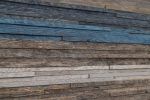 Gradient Blue - Wall Hangings
Inquire about Comissioning a Custom piece
Gradient Blue: Reclaimed wood wall art
This art piece is made to order and has a 3 to 4 week lead time before shipping. I send photos for your approval before I ship it out.
The wood used in this piece comes from a variety of reclaimed materials that were salvaged from old barns and old horse fencing in my area. All the colors in this piece are the natural color of the weathered wood accept for the 2 bands of blues and light whitish grey bands have been painted on old weathered wood. I am able to preserve all these features by applying two coats of low voc water base sealer to protect the piece without taking away from the look and texture of the reclaimed wood.
The art piece in the picture measures 60" wide x 30" high.
Have more questions about this item?