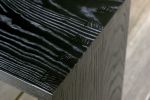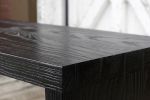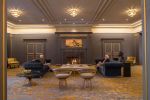 +1

Happy Hollow Club Sofa Table
Featured In Happy Hollow Club, Omaha, NE
The Happy Hollow Club, a golf and tennis club with a long history in Omaha, recently completed a major renovation of their clubhouse. Virtually all the furniture was replaced. The new finishes are elegant, to say the least, and texture is at the fore. Grey velvet, satin brass, and veiny stones play against each other. For the two tables they asked me for, I suggested black dye over sandblasted ash. This obliterates what little color ash has, while amplifying its natural and sensual texture. For balance, we paired this with a starkly rectilinear minimalist form, as well as hand-cut dovetails on a confident and unapologetic scale. The human touch highlights the difference between artisanal work and furniture produced in numbers. While refined and sophisticated, this table avoids the cold and austere pitfalls of last century's modernism: it is a modern console table for today.
Design with Nancy Novak of Alley Poyner Macchietto Architecture. Photo in situ by Dana Damewood Photography.
Returns accepted within 14 days
See details
Item
Happy Hollow Club Sofa Table
Have more questions about this item?