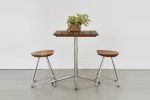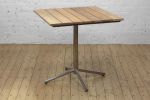 +4
A contemporary light footprint dining table base paired with the reclaimed Teak table top creates the rustic Gallant + Umbrella Table which is perfectly suited for outdoor use.
Top Material: Available in Reclaimed Teak Wood / Oiled Finish or Reclaimed Teak Wood / Unfinished.
Base Material: Stainless Steel / Brushed Finish
Width: 24" / 30"
Depth: 24" / 30"
Height: 28"
Overall Dining Height: 30"
Details: Suitable for Outdoor Use.
Have more questions about this item?