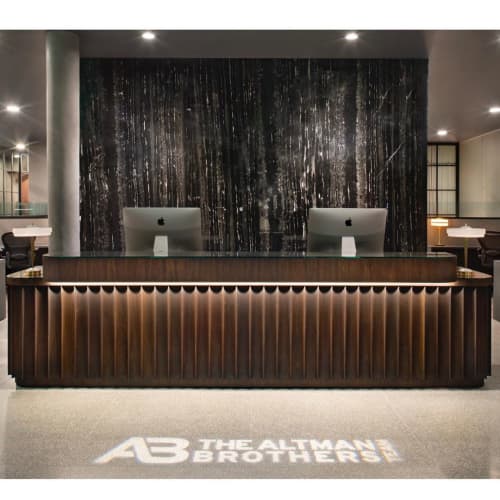 +5

Altman Brothers - Fluted Solid Black Walnut Reception Desk - Tables
Featured In The Altman Brothers, Beverly Hills, CA
Really excited to share this piece with you all. We were hired by The Libman Group in Aspen, who was tasked with designing and building new offices for The Altman Brothers' new space on Robertson Blvd in West Hollywood. The Libman group is an incredible firm and it was an honor to work for both them and the Altman Brothers.
The desk is just under 13' in length, with fluted solid Black Walnut front/sides. The countertops and upper faces are a Black Walnut veneer. We also included built-in recessed LED lighting under the upper countertop, which provides beautiful lighting across the front face. The piece was a big challenge and we couldn't be happier with how it turned out!
Have more questions about this item?