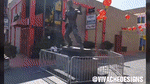 +6

Iconic Public Art Landmark Building Mural - Street Murals
Featured In Los Angeles, CA
Price from $65,000 to $1,000,000$65,000-$1,000,000
Inquire about Comissioning a Custom piece
With urban and street art's popularity ever on the rise, many businesses and organizations wonder where they can get custom wall mural work painted. In California's Greater Los Angeles Area, Vivache Designs has answered the call and are creating one of a kind wall murals that are turning heads, disrupting the mural painting world, and winning rave reviews. The most recent mural painting from Vivache Designs was done by mural artist Michael Che Romero at the Mei Mei Lou Chinatown Building, 454 Jung Jing Rd., just behind the area's famed Bruce Lee statue in Downtown Los Angeles. Romero calls it the "Chinese Liberace" building because of its eccentric motif & op-art design and vibrant color schematic. Vivache Designs was hired by Gilmore & Associates, a premium Los Angeles real estate developer. They hired Vivache Designs to handle the mural rendering of architect firm, Atelier Manferdini with 100% precision and accuracy – a challenging mission Vivache Designs accomplished with flying colors. The all-around enthusiasm surrounding the project before, during, and especially after has been off the charts.
"We love difficult projects, particularly ones that have cultural significance," commented Romero. "This had both and we know it will bring more life, energy and flair to Downtown Los Angeles' already vibrant Chinatown. My life's purpose as an artist and mural painter is to transform the world's static, monotone and lifeless building's walls with dynamic engaging wall murals that inspire and uplift local communities, cities, and nations for the greater good, educating and inspiring humanity through the medium of art and culture."
Murals of all sizes, complexities, places and colors can be accomplished by the team at Vivache Designs. The company are professionals and are more than happy to discuss any potential projects, give suggestions, and deliver a free estimate.
Examples of their work can be seen on the company's website.
Vivache Designs has nothing but five-star reviews across Yelp, Google, and Facebook, with the team never satisfied until their clients are completely happy.
A spokesperson from the Chinatown project remarked, "We really are blown away to see a hand painted mural come to life the way it did. It pays homage to the architect, Atelier Manferdini, and adds value to not just the building, but the whole neighborhood and city. It truly radiates serious positive energy. We'd recommend Vivache Designs to anyone wanting to get a piece of art painted on one of their walls."
To learn more be sure to visit http://vivachedesigns.com.
About Vivache Designs
With our 5-Star proven reputation, Vivache Designs continues its success as a trusted art and design firm. We have gained notoriety in elevating brands and spaces through creative mural designs and mural paintings. The artists at Vivache Designs can paint any mural of your imagination, just look at our gallery and see our amazing mural paintings.
Item
Iconic Public Art Landmark Building Mural
As seen in
434 Jung Jing Rd
, Los Angeles, CA
Have more questions about this item?