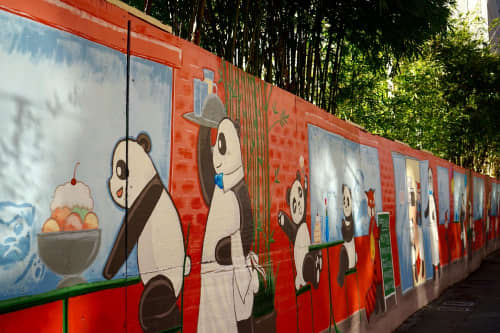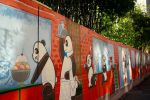 First Street Panda Cafe & Bakery - Street Murals
Featured In San Jose, CA, San Jose, CA
When you're in downtown San Jose, take a stroll down South First Street, between San Fernando and Santa Clara Streets. You'll quickly run into the First Street Panda Cafe & Bakery, serving only the finest in contemporary bamboo cuisine.
There are plenty of pandas and adorable animals to interact with. Take a selfie with your favorite panda waiter or chat with the locals about their favorite dish of the month. Stop and listen to the panda guitarist serenading a panda couple. Watch out for the panda cubs tearing down the sidewalk on their skateboards!
This 200-foot-long mural was commissioned by the San Jose Downtown Association (SJDA) in 2015 in collaboration with P.M.B.Q. Studios. It is the second panda mural painted on this spot; the first was also commissioned by the SJDA to Paul Rodriguez, who originally painted a peaceful forest with several playful pandas peeking through the stalks of bamboo.
While it was being painted, the P.M.B.Q. artists joyfully interacted with the downtown community. Each stroke of paint, from the primer to the sealing coat, was given with love and gratitude, and it was very important to the artists that this positive intention stayed consistent throughout the project.
Since its completion, the First Street Panda Cafe & Bakery mural continues to delight locals and visitors alike, creating endless interactions that are often captured and posted on social media.
Have more questions about this item?