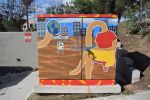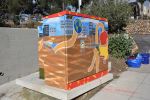 +2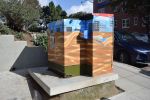 Response to Fragmented Factories - Street Murals
Featured In San Diego, CA
Inquire about Comissioning a Custom piece
This mural was created in collaboration with Mindful Murals, San Diego Museum of Art and San Diego Gas & Electric for the Young Art Outside the Frame 2021 Exhibition. K-12 Students created artworks that were reinterpreted as murals by professional artists.
Acrylic Latex Mural painted on Metal Utility box.
Have more questions about this item?