+1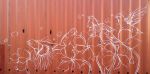 'Two Worlds' - Street Murals
Featured In Truck Transmissions, Chipping Norton, Australia
Inquire about Comissioning a Custom piece
A mural I painted in 2016, after returning from my first solo travel to Europe, Scandinavia and Southeast Asia for several months - it had been my greatest fear to do at the time. It shows the narrative of a fish against a flurry of house sparrows and is inspired by the idea that we operate on one love despite our different backgrounds, customs and traditions. The trip had forced a willingness to be vulnerable and inadvertently a spark of courage in the act of 'doing', a journey I have been on since.
For commissions, collaborations and all other inquiries, please email me directly at: christina-huynh@live.com
Have more questions about this item?