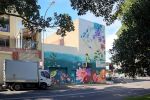 'A Conversation Among Friends' - Street Murals
Featured In Bankstown, Australia
Inquire about Comissioning a Custom piece
The piece is inspired by the small business 'My Florist' as well as a rendition of Cynthia Turner's floral work. The overarching trees uncover a feeling of surprise and when one walks through; for it to feel as if they are walking along a big, colourful urban jungle; passed human-sized florals and a conversation between friends.
For commissions, collaborations and all other inquiries, please email me directly at: christina-huynh@live.com
Item
'A Conversation Among Friends'
As seen in
Dale Parade
, Bankstown, Australia
Have more questions about this item?